Barry Callebaut inaugurates new flagship CHOCOLATE ACADEMY™ center in the Middle East
The Barry Callebaut Group, the world's leading manufacturer of high-quality chocolate and cocoa products, today announced the opening of its new flagship, state-of –the-art CHOCOLATE ACADEMY™ center…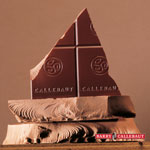 The Barry Callebaut Group, the world's leading manufacturer of high-quality chocolate and cocoa products, today announced the opening of its new flagship, state-of –the-art CHOCOLATE ACADEMY™ center. Located in Dubai (United Arab Emirates), it will be the first-of-its-kind training center in the Middle East and the 17th in the company's network of such centers worldwide.
The new CHOCOLATE ACADEMY™ center will showcase the knowledge accumulated over more than 150 years by Barry Callebaut's global Gourmet chocolate brands Callebaut® (Belgium), Cacao Barry® (France) and Carma® (Switzerland).
It is offering a diverse range of seminars, demonstrations, theoretical courses and practical workshops, designed to inspire artisans and culinary professionals, including chocolatiers, pastry chefs, bakery and other chocolate experts as well as culinary professionals working in hotels, restaurants and the catering business. The center will also serve as a meeting place for chocolate professionals encouraging the exchange of technical expertise among each other.
The well-known French chef Philippe Marand will share his experience in the art of chocolate as Head of the new CHOCOLATE ACADEMY™ center in Dubai.
"With our new, globally the 17th CHOCOLATE ACADEMY™ center we aim to empower all chocolate professionals in the region to create and express themselves beyond the technical barrier with this wonderful material which is chocolate", says Philippe Marand. "Chefs and confectioners hardly find an occasion or a place where they can further develop their skills, learn from experienced expert teachers and exchange new ideas among each other. Our new training center for chocolate here in Dubai is such a place! It is a unique place where we are cultivating an atmosphere of curiosity, creativity and inspiration for both professionals and chocolate lovers," – he added.
For Frederic Trombert, Vice President of Barry Callebaut's Gourmet division in the EEMEA region, the new CHOCOLATE ACADEMY™ center is an important element in further strengthening the company's footprint in Dubai as well as in the Middle East region.
"We believe this new CHOCOLATE ACADEMY™ center will become the beating chocolate heart for chefs and foodies not only in Dubai but in the whole Middle East. This will bring us closer to our customers, helping them to reinforce their daily know how to become unique by using our products," says Frederic Trombert. 
"We want to be here because we want to support the excellence at the highest level. To inspire craftsmen, to discover new technics, new tastes, new combinations and ultimately we also want to provide the knowledge platform for young talents" – he added.
Centrally located in Ontario Tower, the Business Bay region – one of the most booming area in Dubai next to the Burj Khalifa – the new CHOCOLATE ACADEMY™ center features the most innovative equipment and utensils one would find in the world's best schools.
The new CHOCOLATE ACADEMY™ center in Dubai will be integrated into the network of the Barry Callebaut Group's 16 other training centers all around the world. About 38,000 professionals and artisans receive training at these CHOCOLATE ACADEMY™ centers every year. For more information about the Barry Callebaut CHOCOLATE ACADEMY™ centers please visit: www.chocolate-academy.com.