New strategy for sustainable dairy farming
Arla has developed a global strategy for Sustainable Dairy Farming focusing on animals, climate, nature and resources…

Arla has developed a global strategy for Sustainable Dairy Farming focusing on animals, climate, nature and resources. The new strategy will further reinforce Arla's position as a responsible company and assist Arla farmers with their ongoing work around climate, waste and animal welfare.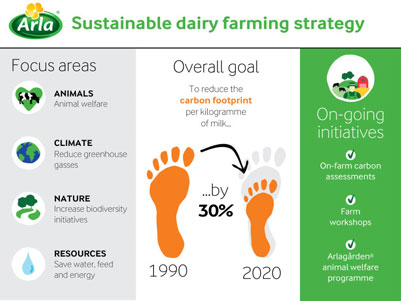 European dairy farmers are already among the most efficient in the world when it comes to impact on the climate. Arla's strategy will take its farmer owners to the next level by helping them take further positive steps towards more sustainable milk production.
As a farmer-owned cooperative, Arla can make a true difference across its entire value chain: "We can and we have taken a stand on animal welfare, climate change, sustainability and other environmental issues. In Arla, we believe that by working with sustainable solutions, across the entire value chain, we will increase our competitiveness," says Peder Tuborgh, CEO of Arla.
The strategy
Arla's Sustainable Dairy Farming Strategy was defined throughout 2013 across the countries where Arla has farmer owners: Sweden, Denmark, the UK, Germany, Belgium and Luxembourg. The strategy was developed in joint cooperation with Arla experts and by Arla's owners and was discussed in Arla's National Councils and approved by the Board of Directors. The overall goal is that by 2020, the carbon footprint per kilogramme of milk from Arla farms will be reduced by 30 per cent compared to 1990.
"It is a great achievement to have our farmers involved in developing Arla's sustainability strategy for their farms, in a way that makes them feel comfortable with the fact that sustainability is not to the detriment of financial performance," says Åke Hantoft, Chairman of Arla.
Arla's activities
To develop the strategy, experiences from each owner country have been gathered and four focus areas have been defined and will set direction in Arla's work:
Animals – ensure a high standard of animal welfare
Climate – reduce the carbon footprint of milk production at Arla members' farms
Nature – encourage and inspire Arla's farmers to protect biodiversity and ensure a more sustainable feed supply
Resources – reduce waste and increase reuse of our resources at Arla farms.
The overall focus will be to work together across the supply chain to improve animal welfare, save resources such as water, energy and feed, reduce greenhouse gas emissions and develop biodiversity focused initiatives in each owner country.
What has happened to date?
On-farm carbon assessments have been carried out on approximately 1,500 Arla farms in the UK, Sweden and Denmark (voluntary and free of charge for the farmers)
Approximately 280 farm workshops have been held in the UK, Sweden and Denmark, for small groups of Arla farmers, aimed at reducing the carbon footprint by improved farm management and reducing waste in the production cycle;
An ongoing responsible approach towards animal welfare has been taken through the Arlagården global quality assurance programme. The programme is mandatory for every Arla farmer and was implemented in Denmark and Sweden in 2003. It has recently been rolled out in Germany, Belgium and Luxembourg. Work is ongoing in the UK to introduce Arlagården in 2015, alongside the national Red Tractor Dairy Scheme
Arla will continue to offer free and voluntary on-farm assessments to its farmers and expects to complete at least 800 carbon assessments every year.
Caring about how we grow
Aside from the animal welfare initiatives, which are mandatory for all Arla farmers through the Arlagården programme, Arla has set global targets that will be followed up on to ensure that 2020 targets are reached.
"The strategy does not place new demands on farmers, over and above the high standards already included in the Arlagården programme. Arla is already a sustainable company, but we want to take it to the next level by providing farmers new opportunities. Offering voluntary on-farm carbon assessments and farm workshops to our farmers will help them become even better," says Henrik Damholt Jørgensen, Vice President of Global Member Services.
Facts:
Arla offers its farmers free of charge on-farm carbon assessments
Farm workshops have been going on since 2010 in the UK, while in Sweden and Denmark they started in 2013. In the UK, workshop topics included eight themes, including, improving cow fertility, reducing energy use, using renewable energy and increasing feeding efficiency;
Every year new activities will be offered to support the aim of the strategy
Related organisations
Related people