Global Public Health Organization NSF International enhances Beverage Quality Program and appoints new Business Manager
The NSF program that provides testing and certification of packaged beverages, as well as bottled water, packaged ice and flavored beverages, to verify compliance with national and global standards…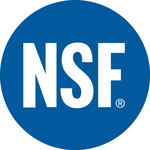 The NSF program that provides testing and certification of packaged beverages, as well as bottled water, packaged ice and flavored beverages, to verify compliance with national and global standards (e.g. U.S. FDA, EU, WHO, etc.) has updated its evaluation criteria. These are now more risk-based and support GFSI standards, FSMA (U.S. FDA's Food Safety Modernization Act) requirements and HACCP. NSF International will now offer bundled audits so that when a GFSI audit is undertaken, the product certification requirements can be covered during the same visit, resulting in time and cost savings for beverage manufacturers. An additional certification focusing on the environmental stewardship of a bottler's source water is also an option.
Valbona Malo has been appointed NSF Global Business Manager for the Beverage Quality Program (photo attached). Based in Brussels, Belgium, Valbona has extensive specialist experience in beverage quality. She serves as Chairman of Education & Audit Committee of Watercoolers Europe, represents NSF for the European Federation of Bottled Water and is a member of Audit Committee of European Ice Packaging Association. Valbona's experience and knowledge of the global beverages market will be an invaluable asset in assisting clients with their certification needs and other requirements.
Webinar: eBook: Thermo Fisher Scientific Food Integrity Collection 2017
Over the course of the year Thermo Fisher Scientific have provided expert comment on a whole swathe of issues including food fraud, origin testing and labelling regulations. This collection also provides access to Thermo Fisher's Food Authenticity webinar series for 2017, where experts delve into olive oil characterisation, gelatin speciation, honey and chromatography, and more.