Review of Symposium on Recent Advances in Food Analysis (RAFA) 2013
The 6th International Symposium on Recent Advances in Food Analysis (RAFA 2013) was held on 5 – 8 November 2013 in Prague, Clarion Congress hotel Prague, Czech Republic…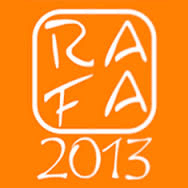 The 6th International Symposium on Recent Advances in Food Analysis (RAFA 2013) was held on 5 – 8 November 2013 in Prague, Clarion Congress hotel Prague, Czech Republic. The meeting was organised jointly by the Institute of Chemical Technology, Prague (ICT Prague, Czech Republic) and RIKILT Wageningen UR (RIKILT, The Netherlands).
Again, the symposium had grown quite a lot and now was attended by 800 participants from 63 countries of Europe, Asia, America, Australia and Oceania and Africa. 105 oral presentations and 565 posters were presented within the scientific program. Both advanced analytical & bioanalytical technologies and novel trends in analysis of food components were presented. The following areas were addressed: (i) Food components related to quality / safety
Allergens
Flavours and odours
Genetically modified organisms (GMO´s)
Industrial contaminants
Mycotoxins, marine and plant toxins
Nanoparticles
Packaging contaminants
Pesticide residues
Processing contaminants
Veterinary drugs
(ii) General food analysis issues
Authenticity, Fraud
Agriforensics
Foodomics
Novel foods & Supplements
Organic crops & Foodstuffs
QA/QC and Chemometrics
The conference was opened by a performance of classic Czech music by famous quitar player Stepan Rak, underlining the wealth of culture from the Czech Republic and Prague. Prof. Karel Melzoch (rector), Prof. Tomas Ruml (dean) and Prof. Jana Hajslova (symposium chairwoman) addressed the audience on behalf of ICT Prague, followed by Prof. Michel Nielen (co-chair) on behalf of RIKILT. With respect to the important role of the European Commission in support of the science of food analysis, the plenary session started with the lecture by Elke Anklam, director of the European Commission – Joint Research Centre – Institute for Reference Materials and Measurements, Belgium, who addressed research challenges in food quality and safety control. Next, a floor was given to Alejandro Cifuentes from the National Research Council of Spain (CSIC), Spain who gave a lecture on present and future challenges in application of foodomics in food analysis. In the oral program, invited leading scientists introduced the main topics that were the subject of individual program blocks covering all the areas mentioned above. As in previous RAFA editions special attention was paid to give a floor to talented young researchers; 20% of all the lectures were given by young scientists (age limit 32 years) and they did a very good job in terms of scientific contents and time management. In parallel to the main oral sessions a range of side events was organised:
2nd European workshop on Ambient Mass Spectrometry in food and natural products
Interactive seminar on sample-prep approaches, separation techniques and application of mass spectrometry in food quality / safety control: Step by step strategies for fast development of analytical method
Tutorial on on tools for mass spectrometry-based metabolomic data processing and analysis
Workshop on "Infrared spectroscopy, Raman spectroscopy and chemometrics for monitoring of food and feed products, lab-to-the-sample"
Webcast "Food analysis issues and challenges to be addressed / solved in close future"
European Food Safety Authority (EFSA) seminar on "Risk assessment on contaminants in food and feed"
USDA seminar on "Food safety issues beyond the EU", covering issues and approaches to address chemical food contaminants from a US perspective
Seminar on "Opportunities to work in and with a European Scientific Institution", supported by the EC-JRC-IRMM
The topics of two poster sessions reflected the main areas of participants´ interests related to the main topics of the conference listed. The majority of the posters presented very high quality innovations and applications and various challenges for further food analytical research were indicated. A poster jury was established from members of the RAFA scientific committee and sponsors of poster awards, who had enormous task to evaluate all 565 posters with respect to the well-defined criteria. The RAFA 2013 award for the best poster was given to Maria-Evangelia Synaridou (Ioannina University, Ioannina, Greece) for the poster entitled "Fabrication of functionalized magnetic nanoparticles for the determination of endocrine disruptors in milk samples". Apart from this prestigious award, 6 additional poster awards were sponsored by industry (AB Sciex, Agilent Technologies, Shimadzu and CAMO software) and won by Jérémy Ratel (INRA-UR QuaPA-MASS group, Saint-Genès-Champanelle, France), Soledad Rubio (University of Córdoba, Córdoba, Spain), Soparat Yudthavorasit (Chulalongkorn University, Bangkok, Thailand), Gaud Dervilly-Pinel (Oniris-LABERCA, Nantes, France), Cecilia Diaz (Fraunhofer Institute, Schmallenberg, Germany) and Maria Pilar Hermo Outeiral (University of Barcelona, Barcelona, Spain). 18 vendor seminars were organized in cooperation with leading companies in the field of advanced food analysis: AB Sciex, Agilent Technologies, Bruker, Büchi, IonSense, KR Analytical, Leco, Phenomenex, R-Biopharm, Restek, Shimadzu, SPEX CertiPrep, Thermo Scientific, ToxiMet, VRS, Waters. These seminars were focused particularly on the modern developments in instrumentation and (bio)technologies employed in food analysis and their potential for improved food analysis parameters, e.g. tools / enhanced techniques for better and faster food analysis. Due to the attractive program, all vendor seminars were very well attended by the conference participants. Altogether 40 companies, significant players on the market, were participating in the exhibition of the conference, demonstrating both the most modern instrumentation recently used in food analysis and other necessary equipment, i.e. consumables, reference materials, bio-analytical tools, sample treatment devices etc. Also by the companies RAFA has been recognised as the event and place to be. 9 media partners, including Springer, Elsevier, Food Engineering & Ingredients, LCGC Europe, Polish Journal of Food and Nutrition Sciences, Russell Publishing Ltd, SelectScience Ltd, Technology Networks and Tekno Scienze contributed significantly to an advertising on the RAFA activities. RAFA is also having a very high reputation for its excellent social program. On this occasion a welcome cocktail was offered in the Clarion Congress hotel Prague for all participants, featuring excellent food, wines and Czech beer. Participants also enjoyed a symposium dinner in the beautiful restored Martinicky Palace in Prague castle area with traditional Bohemian menu, Czech wines and mead, special Czech beers and demonstration of molecular gastronomy. The dinner was accompanied by a live jazz and renaissance music and performance of renaissance stories from the Empheror Rudolph II era, followed by lottery and fire show. Again the possibility was offered to conference participants to submit manuscripts for publication in a special issue, in 2013 special issue of Food Control (Elsevier), exclusively dedicated to RAFA 2013. In addition, based on invitation from guest editiors, special paper collection will be published in cooperation with Analytical and Bioanalytical Chemistry (Springer). Of course, in both journals contributions will be published on the basis of the regular peer-review procedure. Definitely RAFA 2013 was a great success as highlighted by some of the written testimonials and confimed its position as leading conference in advances in food analysis: …an extremely good conference; …congratulate you for the great conference and the perfect organization…; …congratulations for the wonderful and excellent RAFA 2013…; …RAFA 2013 was a really exciting and extremely fruitful event…; …RAFA is an outstanding event…; …thank you again for this very nice conference and opportunities to learn a lot and meet a large number of scientists and friends…; …RAFA has always been a very profitable and pleasant meeting for building network, for the scientific content and for the organization. From a vendor point of view, RAFA is definitely the best meeting we have in Europe… The 7th International Symposium on Recent Advances in Food Analysis (RAFA 2015) is planned to be organised again in Prague, on November 3 – 6, 2015. For further information on the RAFA 2015 keep an eye on the symposium website, www.rafa2015.eu, that should be launched soon! AB Sciex focused on the LATEST SOLUTIONS FOR INGREDIENT PROFILING AND CONTAMINANT DETECTION BY LC-MS/MS' with guest speaker Andre Schreiber from Phenomenex followed by Stephen Lock focusing on LC-MS/MS based methods for a more accurate approach to detect multiple species & veterinary drug residues in a single approach. This method could also be applied to Allergen detection – www.absciex.com & www.phenomenex.com.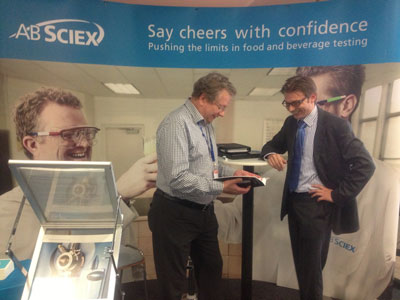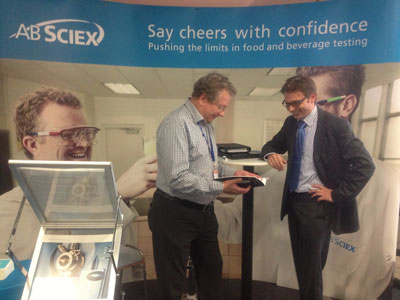 Leco offered a joint vendor Seminar with speakers from LECO European Technical Centre, Prague, Institute of Chemical Technology, Prague, GERSTEL, Inc. and Restek Corporation focusing on Innovations in food analysis: Time-of-flight mass spectrometry coupled with sophisticated separation and sample preparation techniques for use in applications such as:
Analysis of Herbal Teas for Pesticides and Biologically Active Compounds with QuEChERS and GCxGC-TOFMS
Analysis of pesticide residues and other contaminants in heavy food matrices
Derivatization and Extraction of Glyphosate and other polar pesticides from drinking water and food commodities
Determination of Total Fat, Saturated Fat, Monounsaturated Fat and Trans Fat Content in Food Samples
Extraction and Detection Acrylamide in Brewed Coffee Samples
www.leco.com, www.gerstel.com, www.restek.com.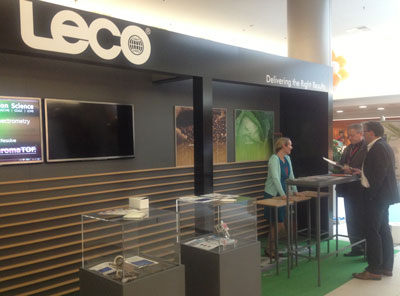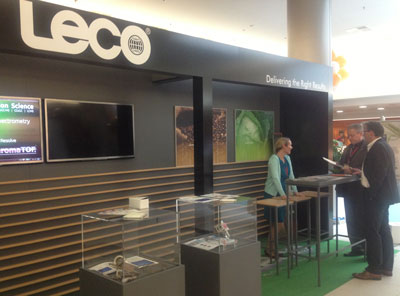 Agilent offered new tools to increase confidence and productivity in the screening and quantitation of residues and contaminants by UHPLC/QTOF/MS and GC/QTOF/MS. There was a positive reaction to untargeted all ions workflow which smooth's data review and increases the amount of information available to a laboratory wanting to verify that hits are real and not potential false positives. There was also continued interest in new QQQ capabilities (both LC and GC), and its increased sensitivity to increase productivity. The presentation by Dr Thorsten Bernsmann, Chemical and Veterinary Analytical Institute Münster also created interest on emerging applications such as Dioxins in line with new regulation. Toximet talked about a revolutionary Technology for the accurate analysis of mycotoxins and other food and feed toxins. For a full interview Dr Siro Perez CEO, Toximet please click here. Buchi featured how advanced extraction technologies can improve the sample preparation process, thus eliminating bottlenecks. View their latest webinar on protein extraction.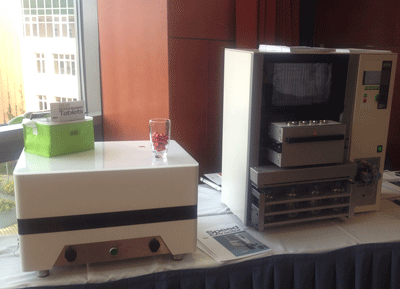 SPEXCertiPrepLtd – leading manufacturer of Organic and Inorganic Certified Reference Materials for Spectroscopy, Chromatography, and other analytical instrumentation provided a seminar on Pesticide Analysis.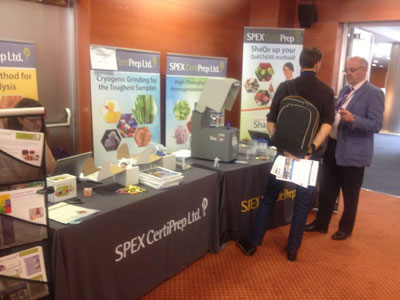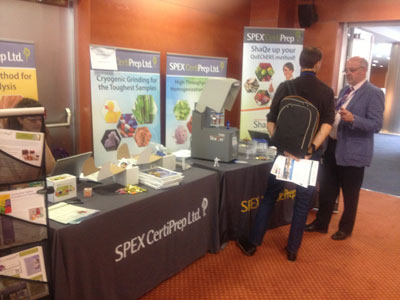 Waters offered an in-depth seminar focusing on ultimate sensitivity, efficient data handling and interpretation for multi-residue analysis with seminars by David Wayland on Informatics tools for streamlining the validation process, Sara Stead on New technology solutions to increase the scope of food analysis capabilities and Need of Non-Target Screening in Food and Animal Feed by UHPLC-HR-Q-TOF MS by J. Luetjohann, GALAB Laboratories GmbH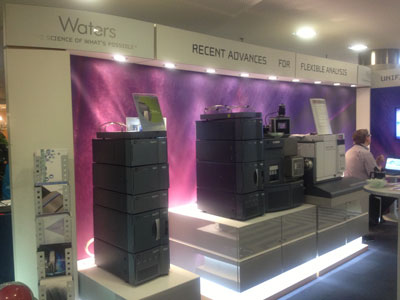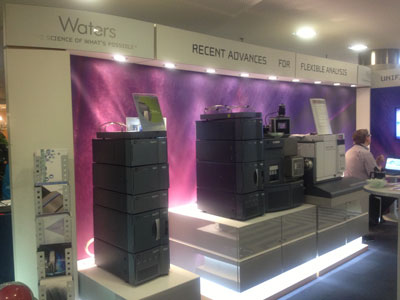 Bruker's focus for the event was on quality, authenticity and food fraud control through a variety of solutions from the lab to the process. Key applications highlighted included edible oils, dairy products, condiments, meat products and wine and fruit juice profiling.