New head of Arla Sweden
Dutchman Henri de Sauvage Nolting is new Executive Vice President for Arla Foods in Sweden…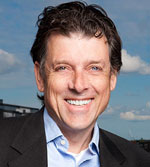 Henri de Sauvage Nolting, Executive Vice President, Arla Foods Sweden
Dutchman Henri de Sauvage Nolting is new Executive Vice President for Arla Foods in Sweden. He comes from a position as head of Unilever Nordic and has 20 years of experience within consumer products.
Henri de Sauvage Nolting will join Arla Foods no later than December 1st as responsible for the business group Consumer Sweden, including Consumer Finland. He will also be a member of Arla Foods' Executive Management Group.
Henri de Sauvage Nolting is Dutch born, but he has lived and worked in Stockholm for 10 years and speaks Swedish.
"I am excited about this great opportunity to work for the most iconic consumer brand in Sweden and for a business with a strong development in Finland. I'm really looking forward to engaging myself in a farmer owned cooperative and the organisation behind it", says .
Henri de Sauvage Nolting has 20 years of experience within the fast moving consumer goods industry. He is currently responsible for Unilever's business in the Nordic region, which includes 1.400 employees and markets in Sweden, Finland, Norway, Denmark, Iceland and Belarus. Before this, he was country manager for Unilever in Sweden and has held other managing position in Sweden, the Netherlands, the UK and China within the Unilever group.
"With his broad experience and solid knowledge of the Nordic market for fast moving consumer goods, I'm confident that Henri will be able to continue our successful Swedish business and meet the future challenges and consumer demands in one of Arla's most important markets. Furthermore, in his role in the Executive Management Group Henri will contribute positively to the globalisation of Arla Foods as a group", says Arla Foods' CEO Peder Tuborgh.
Henri de Sauvage Nolting is 51 years old and has three university degrees in chemistry, chemical engineering and business administration. He replaces Christer Åberg, who as announced earlier this year has pursued career opportunities outside Arla Foods.
Related organisations
Related people