Mobile milk powder packaging facility for Africa
Arla Foods has developed a new mobile milk powder packaging facility out of three 40-foot containers…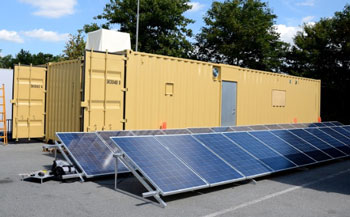 Arla Foods has developed a new mobile milk powder packaging facility out of three 40-foot containers. This makes it more flexible to test new markets for milk powder in Africa.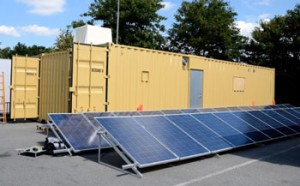 Soon the mobile facility is send from Denmark to the Ivory Coast, where Arla in cooperation with a local partner will sell milk powder in small consumer friendly packages.
"When we are to test new markets it's important to be close to the market, to be able to adjust the production according to the demand. With the new mobile packaging facility we don't have to build a permanent facility straight away," says Bent Strandfelt responsible for the new packing facilities.
Green energy from solar cells
The container is in total 90 square metres, and is painted in a sandy yellow colour. The interior is decorated with cleaning friendly vinyl on ceiling, walls and floors. The roof is covered with 96 solar panel s which makes the facility self-sufficient. The solar panels can deliver 12 hours production time a day. All fittings and weldings are made safe for insects and the ventilation system secures an indoor temperature of maximum 25 degrees Celsius.
The container is capable of receiving 40 sacks of milk powder of 25 kilos each. The milk powder is delivered by the Danish powder plant Arla Foods Akafa. The sacks are emptied into a large funnel, which through a closed pipe system, sends the milk powder into a packing facility machine. The powder is packed into 25 grams, which is what is need for one glass of milk. The container also has a laboratory and changing facility as well as a toilet.
Follows European standards
The mobile milk powder packaging facility will be sailed to the Ivory Coast in the beginning of August and placed with Arla's partner in the city of Abidjan, where it will be run by seven local employees. According to the plan the new mobile facility should be up and running by October first this year.
"We assure that the employees are employed according to European standards for work environment safety and food hygiene," says Bent Strandfelt.
See the packaging process in the video (also found under related material)