WaterAid joins forces with The Coca-Cola Africa Foundation to bring safe drinking water to Burkina Faso and Ethiopia
Sanitation and hygiene services contribute to long-lasting improvements…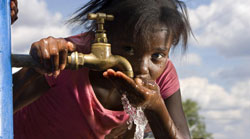 WaterAid, a leading international non-profit dedicated to making clean water and toilets accessible for the world's poorest people, announced today that it is joining forces with The Coca-Cola Africa Foundation to make safe drinking water a reality for people living in one of the poorest suburbs of Burkina Faso's capital city, Ouagadougou, and in two rural communities in southern Ethiopia.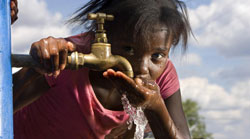 "We are delighted to partner with The Coca-Cola Africa Foundation to bring lifesaving safe water and sanitation to people who are too often ignored," said David Winder, CEO of WaterAid America. "Through collaboration and collective action, we know that this partnership will help make definitive strides towards achieving our goal of a world in which everyone has access to these essential services, and contribute to reducing the number of children who die from preventable diseases."
WaterAid and Coca-Cola will work with the local community and water utility in Burkina Faso to extend existing water pipelines and install new water points that provide residents with clean, treated drinking water. This will help residents reduce the risk of contracting waterborne diseases that are highly prevalent in the area, such as bacterial diarrhea, Hepatitis A and Typhoid fever. It will also reduce the staggering amount of time that women and girls spend walking to get water each day, and open up the possibility for them to instead use the time to attend school, earn an income, or care for their children and families.
"Through our Replenish Africa Initiative (RAIN), we are committed to helping provide sustained safe water access to 2 million people in Africa by 2015," said William Asiko, president, The Coca-Cola Africa Foundation. "The partnership with WaterAid supports our RAIN goal and enables us to assist in supporting communities where we have yet to engage. We appreciate the opportunity to be part of WaterAid's efforts, which we anticipate will create long-lasting improvements."
In Ethiopia, Coca Cola and WaterAid will help provide safe drinking water, sanitation and hygiene services to the Dita and Kemba Districts of the vast, impoverished Gamo-Gofa zone in the southern part of the country. Water and sanitation-related diseases are rampant in these two districts due to severe seasonal water shortages, the absence of perennial rivers, little surface water and high soil degradation. The Gamo-Gofa highlands, with rugged mountainous terrain, have limited road networks, resulting in water supply coverage for these two districts as low as 5 percent.
"At Coca-Cola, water stewardship is a strategic sustainability priority as so much of our business depends on water. It is the main ingredient in our products and it sustains the communities that form our markets," said Greg Koch, director, global water stewardship, The Coca-Cola Company. "A key element of our strategy is helping communities gain access to safe water, sanitation and hygiene and we do that in partnership with them, local governments, civil society, and implementation partners. Only so much can be achieved unilaterally. Partnerships, such as ours with WaterAid, make greater results possible."
Related organisations
Related people