Nestlé Professional invests EUR 40 million to extend Davigel factory in France
Nestlé Professional is investing EUR 40 million to extend its Davigel factory in Noyal-Pontivy, France…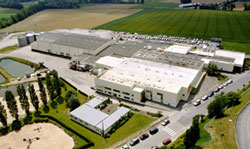 GENERATING EMPLOYMENT: The investment in the factory will create 90 new jobs.
Nestlé Professional, the Nestlé business that supplies the food services industry, is investing EUR 40 million to extend its Davigel factory in Noyal-Pontivy, France.
The investment, which will create 90 permanent jobs, will enable the company to further develop its range of nutritionally balanced meals for hospital patients.
Davigel, a leading provider of frozen and chilled food solutions, already supplies meals to a number of hospitals and healthcare institutions in France, where more than 990 million meals are served to patients every year.
Continuous innovation
"We pride ourselves on continuous innovation," said Jean-Marie Gurné, Head of Nestlé Professional Business-to-Business.
"Davigel already offers nearly 3,000 products and is constantly renovating its portfolio.
"This investment will help provide an even greater variety of high-quality, nutritious products to satisfy our customers' expectations."
Customised solutions
Davigel's culinary solutions for hospitals allow catering managers to offer patients nutritious, varied and enjoyable meals in a safe and cost-effective manner.
The meals are designed to enable hospitals to better meet patients' specific nutritional requirements, which has been shown to help reduce the duration of a hospital stay.
"Research demonstrates that nutritionally balanced meals can help speed up the healing process for patients," Mr Gurné continued.
"As hospitals' budgets continue to be squeezed, it is becoming increasingly difficult for them to cater to patients' specific nutritional and dietary requirements.
"Customised nutrition solutions such as those provided by Davigel can not only help to reduce the length of patients' hospital stays, but also overall health costs."
Davigel
Davigel was founded in 1963 and is now present in 10 countries in Europe and beyond. In 2012 it achieved a turnover of EUR 783 million (more than CHF 900 million).
The company is based in France, where it employs more than 3,000 people and operates three factories.
In 2011 Nestlé Professional invested EUR 8 million in a Davigel training centre in Dieppe to help chefs develop a comprehensive set of professional skills and to better understand change food legislation and food safety requirements.
The extension to the Noyal-Pontivy factory is due to be completed by late 2014.