Food Fraud: a challenge for the food and drink industry
What is food fraud? We have produced an infographic on food fraud to provide more information on what it is and its cost…
Originally published February 2016…
It has been three years since the news of the horsemeat scandal first broke and rocked the food industry. In January 2013, Irish food inspectors announced that they had found horsemeat in frozen burgers sold as beef. From that point, a number of retailers and manufacturers withdrew products that were found to contain horse DNA.
As well as highlighting the complex nature of the supply chain in the food industry, the horsemeat scandal made many consumers aware, probably for the first time, of food fraud.
But what is food fraud? We have produced an infographic on food fraud to provide more information on what it is and its cost: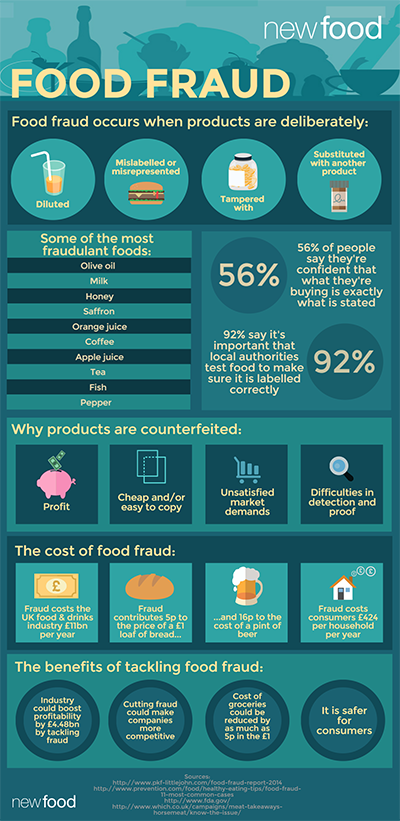 As highlighted in the infographic, some of the most frequent products to be fraudulent are common to many households – olive oil, cheese, honey, herbs and spices. For example, the olive oil in your cupboard may be diluted with a different type of oil. Last year, the Italian press revealed large-scale olive oil fraud. Products from seven major olive oil producers labelled as Extra Virgin Olive Oil also contained significant amounts of lower quality oils and therefore did not meet EU labelling rules for extra virgin olive oil. 
Similarly, the parmesan in your fridge, may contain an item not intended for human consumption at all – wood pulp. For herbs, a recent study found that 25% of 78 samples of dried oregano bought from UK retailers contained ingredients other than oregano. Other food products that are commonly at risk of fraud include fruit juices, grains, milk, fish, organic items and alcohol.
Food fraud is a crime that is an emerging risk given the complexity of global food supply chains. In fact, food fraud is estimated to cost the UK food and drink industry up to £11 billion per year. Food fraud also has the potential to be a major food safety issue – an extreme example of this is fake alcohol. Fraudulent booze can contain substitutes for ethanol including chemicals used in cleaning fluids and automobile screen wash, as well as methanol and isopropanol which are used in antifreeze and some fuels. Drinking alcohol containing these chemicals can lead to serious health problems.
So what can food and drink manufacturers do to stop fraud affecting their supply chain?  To find out, you can join New Food's upcoming webinar 'Addressing complex and critical food integrity issues using the latest analytical technologies' on 18th March 2016 at 3pm (GMT) / 4pm (CET). During the webinar, Chris Elliot, Professor of Food Safety and Director of the Institute for Global Food Security, Queen's University Belfast, and Sara Stead, Senior Strategic Collaborations Manager, Food & Environmental, Waters Corporation, will discuss food fraud and authenticity testing.
Click here to discover more about the webinar and for information on how to join.

Related topics
Related organisations