Brewing supplement 2015
Articles in this Brewing supplement: Hanlons Brewery: Pioneering processing technologies; New quality standard for the brewing industry…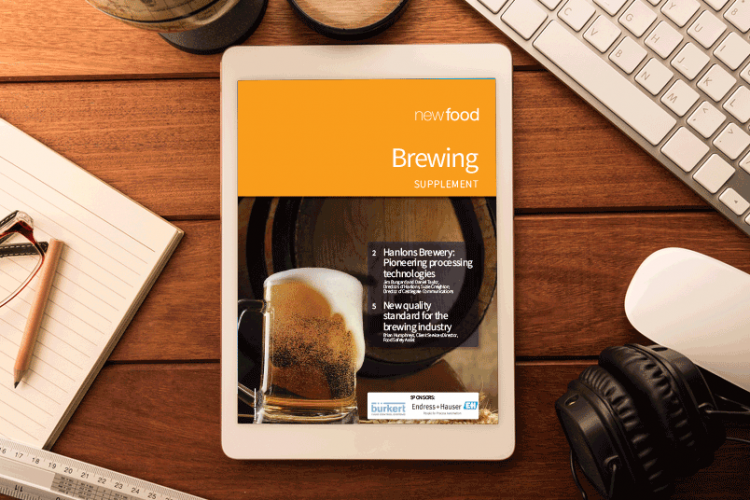 This Brewing supplement is sponsored by Bürkert and Endress+Hauser:
Hanlons Brewery: Pioneering processing technologies
Jim Bungard and Daniel Taylor, Directors of Hanlons / Suzie Creighton, Director of Castlegate Communications
Tucked away off a leafy road just outside Exeter in Devon, in the evocatively named village of 'Half Moon', lies an oasis for beer lovers: Hanlons Brewery! This family-run business has a history of brewing excellent ales and a mission of producing world class craft beers. Jim Bungard and Daniel Taylor, Directors of Hanlons, bought the O'Hanlons brewery business in 2013, and promptly set about building high spec new premises on Dan's parents' farm, while successfully moving all staff and expertise to the new site. You may well have heard of their award winning beers, such as Yellow Hammer, Port Stout and Stormstay, as they are available both locally and nationally…
New quality standard for the brewing industry
Brian Humphreys, Client Services Director, Food Safety Assist
Langham Brewery, working alongside industry experts Food Safety Assist, were hand-picked by the Food Certification Scheme, Safe and Local Supplier Approval (SALSA) to trial the new brewery focussed standard prior to its launch earlier this year…
This Brewing supplement is restricted to logged-in members. Login or subscribe free to read it.
Issue
Related organisations
Related industry sectors