Incoming inspection of cereal flakes with sieve analysis
Graduate student Jennifer Franz has developed a new inspection procedure during her work at the German food producer Lebensgarten GmbH. With the help of sieve analysis the company can now reliably ascertain the fines and dust fractions of incoming cereal flakes; these have a negative influence on the mixing and packaging process of muesli.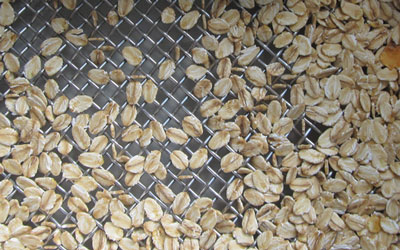 The dust fraction consists of particles <500 microns and prevents tight sealing of the packaging by sticking to the welding seam. Another negative effect occurs during the production of so-called 'crunchy' products. Crunchies are crisply baked cereal flake products; by adding honey, for example, the ingredients are formed into a compact mass and are then baked. The higher the dust fraction, the more crumbly and finepored the consistency of the crunchies becomes. Separating the flakes into individual fractions by sieve analysis reduces these negative effects on the product quality by allowing reliable quality evaluation.
New inspection procedure
The mixture of cereal flakes can be divided into different particle size fractions which are roughly whole flakes, half flakes, broken flakes and fines. The aperture sizes of the sieves used are 4mm, 2mm, 1mm, 0.5mm and <500μm (sieve pan). This last fraction is considered as the dust fraction which has a particularly negative influence on the packaging and production process…
Issue
Related industry sectors