Fudge Kitchen: the sweet spot between industrial and artisan
Reportedly, fudge came into being after a teacher in Virginia, USA bodged a toffee-making demonstration in the 1800s. Hence the verb 'to fudge,' meaning to make a mistake. There has clearly been no fudging behind the stratospheric growth of gourmet Kentish fudge producers, Fudge Kitchen, for whom keeping true to their artisan roots whilst growing productivity has been a priority and a challenge.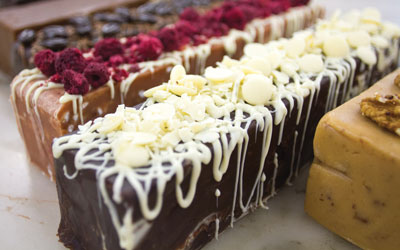 Back in 1983, when the first Fudge Kitchen shop (then Jim Garrahy's Fudge Kitchen) opened, the UK's only experience of fudge was of dry, grainy lumps rattling into sickly dust within a 'Thank you for Feeding the Cat' box. Yet here was something very different. Smooth, creamy, fresh whipping cream fudge, hand-made to an authentic 1830s recipe using all natural ingredients; produced by skilled artisans, theatrically employing traditional techniques involving vast spatulas, copper cauldrons and huge marble slabs. This was the fudge frontier and, over 30 years later, Fudge Kitchen remains at the vanguard.
According to MD Sian Holt, the twin priorities that have sustained this pole position are, quite simply, "staying ahead of the game by innovating and absolutely refusing to compromise on our central artisan values, irrespective of growth." Fudge Kitchen now has eight thriving shops in the UK's key cathedral cities, each still hand-making exceptional, fresh whipping cream fudge on the premises and each a tourist attraction in its own right, as a result.
Webinar: eBook: Thermo Fisher Scientific Food Integrity Collection 2017
Over the course of the year Thermo Fisher Scientific have provided expert comment on a whole swathe of issues including food fraud, origin testing and labelling regulations. This collection also provides access to Thermo Fisher's Food Authenticity webinar series for 2017, where experts delve into olive oil characterisation, gelatin speciation, honey and chromatography, and more.
In 2012, in that characteristic spirit of innovation, Fudge Kitchen developed an additional, longer life Butter Gourmet Fudge range, resulting in listings with over 200 stockists (and counting) ranging from the smallest independent deli to Harrods, Fenwicks and Waitrose. They opened their own production facility in Aylesham, Kent, immediately tripling production volumes, with a 200% increase forecast for this year; and now supply own labels to such foodie titans as Selfridges and Hotel Chocolat…
The rest of this article is restricted to logged-in members. Login or subscribe free to read it.
Issue
Related industry sectors