Fudge Kitchen: the sweet spot between industrial and artisan
Posted: 1 September 2015 | Sian Holt, Managing Director, Fudge Kitchen and Lisa Jones, Dandelion PR | No comments yet
Reportedly, fudge came into being after a teacher in Virginia, USA bodged a toffee-making demonstration in the 1800s. Hence the verb 'to fudge,' meaning to make a mistake. There has clearly been no fudging behind the stratospheric growth of gourmet Kentish fudge producers, Fudge Kitchen, for whom keeping true to their artisan roots whilst growing productivity has been a priority and a challenge.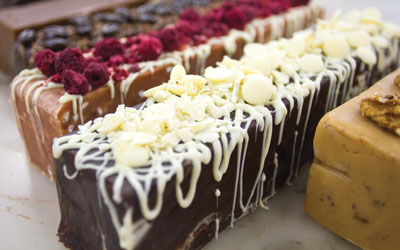 Back in 1983, when the first Fudge Kitchen shop (then Jim Garrahy's Fudge Kitchen) opened, the UK's only experience of fudge was of dry, grainy lumps rattling into sickly dust within a 'Thank you for Feeding the Cat' box. Yet here was something very different. Smooth, creamy, fresh whipping cream fudge, hand-made to an authentic 1830s recipe using all natural ingredients; produced by skilled artisans, theatrically employing traditional techniques involving vast spatulas, copper cauldrons and huge marble slabs. This was the fudge frontier and, over 30 years later, Fudge Kitchen remains at the vanguard.
According to MD Sian Holt, the twin priorities that have sustained this pole position are, quite simply, "staying ahead of the game by innovating and absolutely refusing to compromise on our central artisan values, irrespective of growth." Fudge Kitchen now has eight thriving shops in the UK's key cathedral cities, each still hand-making exceptional, fresh whipping cream fudge on the premises and each a tourist attraction in its own right, as a result.
In 2012, in that characteristic spirit of innovation, Fudge Kitchen developed an additional, longer life Butter Gourmet Fudge range, resulting in listings with over 200 stockists (and counting) ranging from the smallest independent deli to Harrods, Fenwicks and Waitrose. They opened their own production facility in Aylesham, Kent, immediately tripling production volumes, with a 200% increase forecast for this year; and now supply own labels to such foodie titans as Selfridges and Hotel Chocolat. 
They have tapped into wholesale, corporate, loose serve and food service sectors and increasingly export across the world, from the US to Kuwait, with four distributors across Europe in place. It is an astonishing roll call for a product with a chequered history, entering the fiendishly demanding gourmet confectionery sector.
Over 30 years, Fudge Kitchen has watched (and helped shape) massive changes in this market. As is typical across the entire Food and Drink sector, these changes are fuelled by fierce competition and a discerning consumer demand for quality, authenticity, creativity and that rightly prioritised artisan element. Fudge Kitchen delivers the lot in vast spatula-loads, and has driven a step-change in perceptions of fudge in the doing.
A recent Daily Mail feature headline2 disbelievingly shouted, "Fudge gets Fancy!" with an entire nation's 'Well-I-Never-ness' echoed in that exclamation mark. It is largely thanks to Fudge Kitchen re-educating the market to the premium potential of fudge, that it is now considered a gourmet confectionery; comfortably muscling in on, and offering a much-needed alternative to the overstocked high-end chocolate sector. As such, a growing band of emerging brands including Ochil Fudge Pantry, YumYumTree Fudge and The Fudge Factory, are recognising the fact.
With such a remarkable trajectory, Fudge Kitchen would be forgiven for making some sacrifices to the demands of efficiency, economy and mechanisation, yet their core values remain stridently artisan: of premium quality products, still hand-made and decorated in small batches by specially trained staff, skillfully creaming the cooling fudge to create the brand's famed smooth texture; and, crucially, of innovation, with a new product output that would leave Willy Wonka shamefaced. It is this element that helps keep Fudge Kitchen ahead of the creeping competition.
"Our insistence to retain (in spirit and practice) the heart of an artisan producer is important for who we are as a brand," explains Sian. "Most significantly, because it still enables us to be innovative and experimental. With fixed lines, large batches and unskilled production staff who are only aware of a fraction of the line process, new product development (NPD) has to be a totally separate function. We involve the team, who bring their views, ideas and suggestions, based on their knowledge of what's feasible, on what might enhance our offer, or on interesting new ingredients."
This egalitarian chain of communication, from the customer to management has proved both supremely productive and quirkily creative.
In the last three years, since launching their Gourmet Butter fudge umbrella range, with the fitting 'devilishly different' strapline, Fudge Kitchen has produced a staggering 15 entirely unique lines in over 40 mindboggling flavours, comprising a portfolio of some 100 individual products. They range from their unprecedented Drinking Fudge and Liquid Fudge lines, to myriad themed selection boxes and seasonal formats, to loose serve loaves and miniatures, to their recent foray into sugar confectionery, in the Delectables range of brittles and caramels.
Their physical shop fronts and a prolific presence at trade and consumer shows, including such international confectionery showcases as ISM and Sial, is key to the Fudge Kitchen principle of dealing directly with their customers and suppliers, listening to what they want and working with them to create it. In the past, this coalface contact has resulted in some fabulous innovations and opened up some interesting and profitable markets.
For example, a request at the 2014 ISM for that Scandinavian staple of a liquorice flavour sent Sian's team scurrying to develop a product fit to bear the Fudge Kitchen name. In a saga that lays testament to the brand's eye for details and uncompromising commitment to authenticity and quality, that meant exhaustively sourcing the finest artisan liquorice syrup. This search eventually brought them to Johann Bülow, a Danish liquorice producer, who had developed his exceptional syrup in his kitchen on the tiny Baltic island of Bornholm. Fudge Kitchen's Sweet and Salted Liquorice fudge line is now – in the ultimate 'coals to Newcastle' seal of approval – being sold in several outlets across Scandinavia via distributors.
Similarly, a passing query from a potential Kuwaiti customer for pre and post-Ramadan fudge treats, fired up the Fudge Kitchen gastro-lab; with multiple units of the resulting cinnamon, pistachio and cardamom fudge packaged and shipped out to Kuwait in time for the celebrations.
This ability to 'turn on a penny' is partly down to the logistics of being independent, of having their own production facility, food technician and established set of designers and packaging suppliers in place. But it is, in equal measure, down to a hungry, courageous, can-do attitude that typifies the brand and lies behind their growing relationship with Selfridges, for whom they have developed nine exclusive own label lines. They also occupy a liveried section of the flagship London store, displaying 22 branded products, and have a permanent concession stand in the Birmingham branch.
This affiliation neatly illustrates the combining of artisan principles and products with industrial production efficiency and capacity that is so unique to Fudge Kitchen, described by Sian as "the best of both worlds."
Sian continues: "We're artisan in the sense that everything we produce is still made with the best ingredients we can source, all entirely by hand, but we are quickly learning the skills of upscaling this in order to meet greater demand, by developing methods to speed part of the less skilled aspects of our process." That has included the purchase of chocolate tempering machines to facilitate the hand-dipping of their gourmet Fudge Fingers range and a cutting machine, sourced from Belgium, which is used to speed up the cutting process on certain log and bar formats.
Over the last six months they have embarked on a lean manufacturing project with the KPS Partnership to help ensure that the correct operational systems and best practices keep apace with the entrepreneurial steam train. Through detailed analysis and study of all of the complex processes involved in each product, new systems are being developed to improve production planning, execution and stock control which in turn will feed right through the organisation and have direct impact on profitability and margin. "It's a challenging but highly recommended journey that everyone should take." says Sian.
Concurrently, they have created two interlinked and entirely bespoke web-based systems that will become the beating heart of the business and offer total traceability from receipt of raw materials to delivery to end customer in addition to full stock control of ingredients and packaging and a customer CRM.
The above has all helped move the business from cottage industry to small producer without any compromise on the core offer, and culminated this July in their achievement of SALSA accreditation. This in turn opens up a wealth of new potential markets, resulting already in a confectionery supplier contract with Delaware North at Wembley Stadium.
These are tough, have-it-all times for producers, where customers, and increasingly informed consumers, expect authenticity, quality and uniqueness, but with the reassurances of mass manufacturing processes. Fudge Kitchen seem to have found the sweet spot between provenance and productivity.
As Sian summarises, "It would be so much easier to mechanise the production of our brittle, but we wouldn't get that fine texture. It would be so much cheaper to plug in an icer and decorate our trays in seconds, but they wouldn't look nearly as beautiful. Our customers would be the first to notice. We have refused to compromise on our product, packaging or production processes, but that doesn't make us retrograde. Far from it. We have, in fact, identified a growing consumer zeitgeist and responded to it."
As ever, Fudge Kitchen would appear to be leading the way, ushering in a new age of industrial artisans.
References
About the authors
Sian Holt co-founded Jim Garrahy's Fudge Kitchen in 1983, with Jim Garrahy. In 1995 she bought out the company, which would become Fudge Kitchen, expanding to eight UK wide shops. In 2012, she launched the new wholesale Butter Gourmet Fudge range, opened their own production facility in Aylesham, Kent, and continues to exponentially expand products, listings and markets.
Lisa Jones is a writer and founder of Food and Drink PR company, Dandelion PR, who work closely with Fudge Kitchen.