Live monitoring of mycotoxin risk in wheat crops during flowering
Mycotoxins are a human health risk even at low concentrations, but cereals which can contain mycotoxins are a major dietary source, particularly wheat and maize. In this article, we describe monitoring methods that can be practically used in crop production to minimise the risk of contaminated grain reaching the food chain.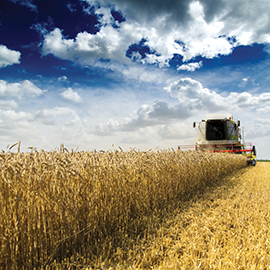 There are 11 mycotoxins (trichothecenes) that are found in UK wheat grain. Deoxynivalenol (DON) is the most frequently detected mycotoxin, present above the limit of quantification. DON is produced by the fungal pathogens Fusarium graminearum and F. culmorum, which along with other closely related fungi, cause fusarium head blight (FHB) in wheat and which can be detected in crops around the milky ripe stage as premature ripening (bleaching) of individual spikelets (see Figure 1, page 64). Legislation was introduced in 2006 to set out the maximum limit for mycotoxins in cereals and cereal products for human consumption, which for DON is set at a maximum of 1,250µg/kg for unprocessed cereals (other than durum wheat).
In the field, fusarium infection occurs when fungal ascospores (and also macroconidia) land on susceptible wheat heads. Extruded anthers during flowering are thought to be the site of primary infection. High rainfall at flowering increases fusarium infection risk and high rainfall near to harvest increases risk of mycotoxin development. It is well established that FHB infections are closely linked to wet conditions during the flowering period and for the majority of UK wheat crops flowering occurs in early June. FHB infection is favoured by extended periods of high moisture or relative humidity (>90%) and moderately warm temperatures (between 15-30°C). Once infection has occurred, further rainfall and humid conditions up to harvest will allow secondary infection to occur, facilitating further fungal growth and mycotoxin production.
There are a number of agronomic (crop production) factors that can influence the risk of fusarium infection and subsequent risk of mycotoxin development in crops. In the UK, there has been a focus on research to develop a risk assessment to help farmers under stand the factors leading to increased mycotoxin levels in grain. The main agro nomic risk factors which are under the control of the farmer are summarised in Figure 2 (page 65). Fungicides are commonly used at flowering to reduce fusarium infection risk, although even well timed applications of an appropriate dose are only able to reduce rather than eradicate fusarium. The efficacy of fungicide use for control of FHB is variable with other factors such as cultivar resistance, fungicide coverage, timing and frequency of applications, and natural variation in aggressiveness of individual isolates likely to contribute to this variability…