Issue #1 2015 – Digital edition
In this issue: Dairy Processing, Fats & Oils, Food Grade Lubricants, Water Holding Capacity, Anuga FoodTec preview, Processor & Sensor Technology, Ingredients, Food Safety…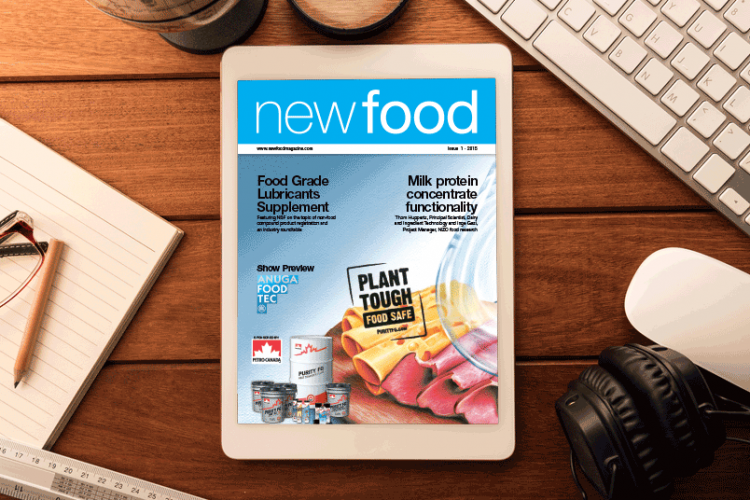 Read the digital version of Issue #1 2015:
DAIRY PROCESSING
Milk protein concentrate functionality through optimised product-process interactions
Thom Huppertz, Principal Scientist, Dairy and Ingredient Technology and Inge Gazi, Project Manager, NIZO food research
FATS & OILS
Eco-friendly fat crystallisation
Geoff Talbot, The Fat Consultant, Helga Manson, Application Manager, Loders Croklaan, and Krish Bhaggan, R&D Manager, Loders Croklaan
FOOD GRADE LUBRICANTS SUPPLEMENT
With contributions from NSF on the topic of non-food compound product registration; and an industry roundtable discussing trends and challenges in food grade lubricant manufacturing.
WATER HOLDING CAPACITY
Getting a grip on water holding capacity
Ruud van der Sman, Wageningen UR Food & Biobased Research
SHOW PREVIEW
Anuga FoodTec 2015
PROCESSING & SENSOR TECHNOLOGY SUPPLEMENT
With features from MeBioS-KU Leuven and Flanders' FOOD on the Sensors For Food project; Università degli Studi di Milano on using Vis/NIR spectroscopy to evaluate craft beer; and an industry roundtable discussing the latest sensor technologies and their growing application in food processing.
INGREDIENTS
Science-based precision processing for future healthy, structured and tasty fruit- and vegetable-based foods
Ann Van Loey, Professor, Laboratory of Food Technology, KU Leuven
FOOD SAFETY SUPPLEMENT
With features from the North Carolina State University Dept of Food, Bioprocessing & Nutrition Sciences on the implications of antibiotic resistance in Campylobacter; and from Food Safety Consultant François Bourdichon on zoning classification in food processing.