Tackling food fraud: Why it's got to be led from the top
Posted: 10 October 2014 | Jude Mason, Technical Services Director at NSF | No comments yet
Jude Mason, Technical Services Director at NSF, considers in more detail why tackling food fraud needs leadership, coordination and liaison across the business – and that means it demands board level attention…


In our last blog we looked at the need for a holistic approach to the potential problem of food fraud in your supply chain. This week Jude Mason, Technical Services Director at NSF, considers in more detail why tackling food fraud needs leadership, coordination and liaison across the business – and that means it demands board level attention. Food businesses need to adopt a wholly new model for tackling fraud.
The fact is that food businesses are not generally geared up to deal with organised food crime. Food fraud has mostly been dealt with as a food safety issue and has been treated as being solely within the remit of technical and quality-control functions. However it is now being recognised as a complex commercial and supply chain issue that impacts on many areas of a business, including purchasing, operations and financial management, all of which need to liaise better in order to detect and prevent it.
The Elliott report makes it clear that ignorance of what is going on in your supply chain and reliance on others further up the chain to provide assurance of their products or ingredients should not be a defence in law. Elliott makes recommendations for increased accountability and sanctions for businesses, stating that Zero tolerance is required to restore consumer safety and trust. And this is the key point: the loss of consumer trust ensuing from a scandal such as Horsegate can cost a business far more financially than a mere sanction, such as a fine for mislabelling. The commercial repercussions can ruin a business's or even a whole nation's reputation, as happened in the Austrian wine scandal of the 1980s.
Elliott's reference to the 'blind eye approach' and the evidence of so many fraud incidents that have come to light recently  would indeed suggest that eyes and ears at the top end of businesses may have been closed, or at least that there has been an unacceptable level of complacency.
So, what should board directors and senior managers be doing to address this major challenge?  NSF believes that a top down holistic approach is needed, one which starts with a realistic view of the potential issues and fraud challenges emerging, so that you can identify and prioritise high risk product areas, plan your defences and controls; ensures that your company culture, training and KPIs are designed to instil employee attitudes and behaviours that detect and stamp out fraud; and puts in place a rigorous supplier assurance programme. These points are all enshrined in the 7-step programme outlined in our last blog.
The first step, horizon scanning, is often talked about in a general sense of being aware of upcoming issues that may affect your business, but actually it requires a highly systematised approach to bring valuable and actionable insights. NSF has developed an intensive, far reaching and co-ordinated approach to intelligence gathering and horizon scanning, which include early warning systems to ensure that we are amongst the first to identify an emerging issue or crisis. 
In addition we overlay  a model we have developed for assessing potential media and consumer responses to real and perceived product risks.  Using it helps us to advise businesses how best to adopt a proactive approach to anticipating and managing emerging consumer issues.
The next step is then to risk rate and prioritise your product and ingredient risks by item. It is very important to identify which products and ingredients are most likely to have been adulterated and how; then you will need to introduce control measures including enhanced auditing and testing for likely adulterants and substitutions.
The NSF fraud temptation model can assist in this process.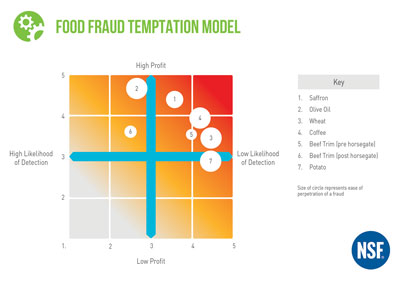 It was developed by NSF for the UK Food standards Agency and is designed to work from dynamic database feeds that allow the user to plot a relative risk score for a point in time based on the product or ingredient type, the nature of the potential fraud, its difficulty, profit incentive and likelihood of detection. This enables easier and consistent mapping/planning of surveillance measures, supply network controls and preventative solutions.
More next week, on how vital the right company culture is in detecting and preventing fraud.
If you have any issues you'd like to comment on or discuss in this column, please comment below!