Cargill's leading sustainable cocoa program boosts profits for Ivorian cocoa farmers
Cargill's sustainable cocoa program has helped Ivorian farmers have another profitable year…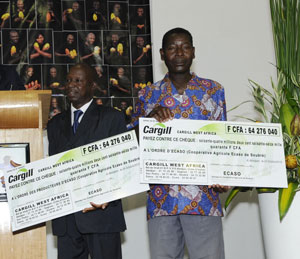 Cargill C&C - Yao N'Dri Pascal, farmer and co-op president (left) with a fellow farmer
Cargill's sustainable cocoa program has helped Ivorian farmers have another profitable year by increasing yields, improving bean quality and boosting their incomes. During the 2011/12 crop year, approximately 26,500 Ivorian farmers across 43 UTZ and Rainforest Alliance certified cooperatives have received Cargill's sustainable cocoa premiums payments totalling U.S. $7.6 million – the highest ever pay-out for farmers in the region.
Cargill's annual premium payments recognise farmers for their efforts to increase yields and improve the quality of the beans, such as decreasing moisture and mould content – this helps to continue to raise the quality of Ivorian cocoa beans. This year's premium has raised farmers' direct revenues by 17 per cent on average. Cargill's customers who buy certified cocoa and chocolate ingredients contribute directly to these premium payments. As such, over the last three years, Cargill's premium payments to Ivorian farmers have totalled more than U.S. $12.2 million.
These premiums were presented to farmers and cooperatives at an event in Côte d'Ivoire on 24th October. The ceremony was attended by the President of the Conseil Café Cacao and over 500 farmers from all of the cooperatives that are participating in Cargill's sustainability program – making this one of the largest gatherings for the Ivorian cocoa farming community this year.
Speaking on behalf of the ECASO cooperative, farmer Yao N'Dri Pascal explains what benefits he and his cooperative have seen since participating in Cargill's sustainable cocoa program: "By participating in Cargill's farmer training, I was given the unique opportunity to learn how to best manage and maintain my cocoa farm. Thanks to this training, I have been able to reduce the number of incidences of black pod disease while using fewer pesticides – creating high quality cocoa beans and a healthier rejuvenated farm."
Pascal continues, "Certification premiums have helped boost my income and also supported community projects led by the cooperative. Thanks to the payments, ECASO's management has financed the building of a new school with three classrooms, the renovation of another three schools in our communities, and the construction of a shop in Soubre that offers farm equipment and materials."
Since the introduction of Cargill's sustainable cocoa program in Côte d'Ivoire, the company has continued to scale up the amount of certified cocoa it has available to the market and is now sourcing nearly 20 per cent of its annual cocoa supply as certified sustainable cocoa.
Cargill is continuing to invest over U.S. $3 million a year in financing, training and support to the Ivorian cocoa community to maintain and strengthen the sustainable cocoa supply chain. Its sustainable cocoa program also supports communities with education and health programs. As result of Cargill's sustainability program 87 cooperatives have been certified and another 25 are starting the program, which is now reaching over 60,000 Ivorian farmers. Cargill is on target to source over 100,000 tonnes of certified sustainable cocoa beans from Côte d'Ivoire by 2015 – making its program the largest of its kind in the country.
Jos De Loor, President for Cargill Cocoa and Chocolate says; "We are proud to recognise the efforts made by the Ivorian cooperatives, farmers and the cocoa growing communities towards creating this sustainable supply chain for cocoa. As the 60,000 farmers complete their training, we expect that all the participating cooperatives will achieve independent certification by the end of 2013. As a result of this, volumes of certified cocoa available to our customers will continue to increase, enabling Cargill to help our customers meet the demand for sustainable cocoa products."
Due to the success of Cargill's sustainable cocoa program in Côte d'Ivoire, Cargill has expanded its farmer training activities to Ghana, Cameroon, Brazil, Vietnam and recently Indonesia.
Related organisations
Related people