acticool. – the active spiral cooler for the bakery industry: ultrapure climate for optimum product result
The bakery industry makes extremely high demands on issues like process safety…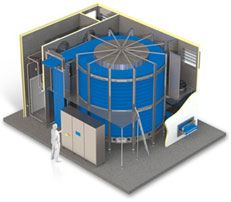 The bakery industry makes extremely high demands on issues like process safety, reproducibility and process hygiene, in particular with regard to fresh bakery products. For these special applications, Heinen has thoroughly analyzed the process of active cooling and relaunched it with the most modern technology, combined with a 30 years experience in industrial proofing, cooling and freezing. In the development phase, the focus was put on the process climate, as only a continuous climate control, working within narrow tolerances, can guarantee a product result which is reproducible at any time. All three parameters – air temperature, air humidity and air speed – can be controlled according to the requirements of the product and in view of an optimum product quality and use of energy.

Important for the developers was to generate a process climate being independent from the outside or production room conditions to ensure identical process conditions throughout the year. This is essential because the product outfeed temperature is allowed to vary only in very small tolerances for high quality during downstream processes like slicing (less product loss).
Another reason for developing the active spiral cooler is to achieve a significantly improved quality of the end product. The air humidity in the spiral cooler can be controlled in narrow tolerances with at the same time high relative humidity. Conventional cooling processes tend to desiccate the product due to either high air speed or too low temperatures. By actively influencing this climate parameter in the Heinen spiral cooler, a desiccation of the product to be cooled can be reduced or even completely prevented.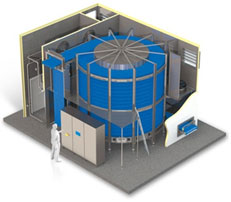 The use of multi-stage filters and (as an option) with UV-V light disinfected air can prevent to a great extent a contamination of product and conveying system during the cooling process. Overpressure within the system additionally avoids contamination by non-filtered air entering the insulated enclosure. Horizontal or laminar air flow guarantees a gentle, soft and uniform cooling of the product. The result is an extended shelf-life of fresh bakery products due to increased process hygiene.
A complex software controls the entire process to exactly maintain the required climate conditions. This software also controls the optimum air mix so that the energy required for the cooling process is reduced to a minimum.
Basic climate data of the active bread cooler
Air temperature: +15 °C to +25 °C (adjustable)
Temperature tolerance: +/- 0,5 K
Air humidity: 55 % to 75 % relative humidity (adjustable)
Humidity tolerance: +/- 5 %
Air speed: < 1,0 m/s (adjustable)
The system is available at belt widths of 660 mm, 760 mm, 914 mm and 1067 mm. The number of tiers can vary between 12 and 32 at a maximum bread loaf height of 180 mm.
For more footprint flexibility, the customer can choose between normal radius and reduced radius execution as well as single or double drum system with upward or downward conveying (Heinen offers four different layouts at 0°, 90°, 180° and 270°). Possible retention times ranging from 30 to 240 minutes at belt speeds between 5 m/minute to 25 m/minute can be chosen according to the required outfeed product temperature. The complete system is made of stainless steel, the belt is available in stainless steel or synthetic material.