C Batch – the alternative to complex and expensive batch control systems
40 percent of today's batch production activities involve simple small-scale applications…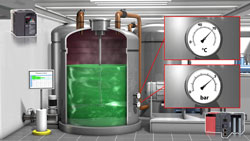 40 percent of today's batch production activities involve simple small-scale applications for which existing Batch solution recipe-based process control systems are too complex and unnecessarily costly. As a remedy to the problem Mitsubishi Electric has now launched a scalable alternative onto the market – C Batch.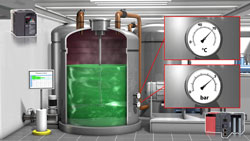 Small-scale applications, for example in the Food and Beverage industry, typically include the mixing of raw materials, the preparation of materials for subsequent process stages and upstream processing of raw materials. As there have been no economically viable individual automated batch process control systems for these processes on the market until now, it has also been difficult to comply with legal requirements for seamless tracking of all the process stages and the provision of comprehensive reporting.
In addition, product changeovers as well as the introduction of new products can prove time-consuming as production remains relatively inflexible. These problems are highlighted by the fact that 30 percent of all batch production activities are reckoned not to comply with modern standards, requirements or legal regulations.
While mechanical production systems can be adapted to fall in line with legal safety regulations by retrofitting machine guarding systems or pressure relief valves, for example, things are far more complicated where control technology is concerned. That is because small-scale applications frequently use outdated PCs or control components which were taken off the market long ago. Updating is then no longer an option for these batch processing systems and neither is it possible to provide the required tracking or desired production flexibility.
In launching C Batch, Mitsubishi Electric is bringing a new system onto the market which is precisely geared to these applications. The batch control system was designed through collaboration with INEA; the Mitsubishi Electric competence centre for the process industry that works closely with the Slovenian Institute Jožef Stefan.
Previous batch solutions have been high-end systems with high performance limits and ranges of functions which are no longer able to cope with small-scale applications. C Batch can be adapted to the requirements of the specific batch production task through scaling, thus providing an alternative to previous complex and cost-intensive systems. The basic version of the solution is designed around simple process sequences and can be scaled up accordingly in terms of size, functionality and complexity if required.
C Batch: the open solution
Besides scalability, the other main distinguishing feature of C Batch is its open architecture. Seamless communication with other systems is a given and can be realised both quickly and cost-effectively. The flexible exchange of recipes via the WBF's (World Batch Forum) Batch-ML standard is possible, for instance. Data and reports can be transferred to historical databases or SAP systems. Open interfaces are provided for exchanging data and these can also be used for field or enterprise level integration while databases can also be integrated directly from the control level.
Recipes for Food and Beverage processes can continue to be created and edited using PCs and then sent to the control system via a secure database connection and not an open interface. Switching to C Batch will also enable users to transfer already existing batches from existing control systems to the new system, enabling the set-up time to be kept to a minimum.
S88.01 standard
C Batch is compliant with the global S88.01 batch control standard for batch-oriented operation and is based on the concepts and models defined within it. With C Batch, almost the whole control program with all interlocks, mixing or weighing processes can be created automatically, resulting in the significant reduction of user-specific programming costs as well as associated costs. It also guarantees a new level of production flexibility since recipe parameters can be changed frequently without having to carry out any time-consuming or cost-intensive reconfiguration of the production line or control programs in the process.
This international industry standard has increased the speed with which new recipes can be developed and implemented and existing recipes can be changed. The facility to produce different products on a single machine and also cope with the necessary frequent product change-overs with short set-up times brings a measurable increase in productivity. Besides enabling efficient utilisation of the existing machinery, the lead time for introducing products has also been reduced. Nowadays, these are precisely the factors that are crucial to a company's competitiveness. With C Batch, small-scale applications can now also enjoy the benefits of the S88.01 standard.
Functions of the PAC-based batch control system
Mitsubishi Electric has moved the execution of recipes traditionally carried out using PCs as well as interfacing to the process and fundamental process control to the C Controller which is integrated in a secure PAC environment (PAC – Process Automation Controller). The C Controller runs the jointly developed INEA ([email protected] Alliance partner of Mitsubishi Electric) software which also functions as a batch execution engine within the secure control environment.
As a result, PCs are no longer required on the shop floor in order to manage and support this type of process, thus removing a security risk from production since non-industrialised PCs are far more susceptible to faults and they only have limited protection against computer viruses or hackers. The C Batch system only uses PCs for the non-critical creation and editing of recipes. Connection is realised via a single interface which can be efficiently controlled in order to keep the control system and production facility safe from cyber threats. The operator interface in Production is provided by Batch View software running on Mitsubishi Electric's GOT-series HMIs and recipes can also be adapted to production conditions based on customer requirements.
C Batch delivers all the features of a traditional PC-based batch control system such as recipe creation and management, creation of batches and control of their execution, automatic operation and the simultaneous execution of several recipes. And because of the greater reliability of the PAC platform, C Batch also provides improved productivity, minimum batch cycle times and deterministic execution speeds.
The scalable open C Batch solution not only includes recipe creation and management software but also the industrially proven hardware required for the PAC environment. So far, Mitsubishi Electric is the only company offering the whole range of facilities for this secure type of batch control system on a complete Automation Platform. With C Batch, there is now a recipe-based batch control system that enables the automation of the 40 percent of small-scale applications and less complex processes too.