Mettler-Toledo expands its vision inspection technology capacity in Europe
European CPGs benefit from productivity and quality assurance gains…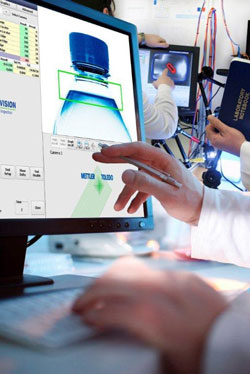 Food, beverage and pharmaceutical manufacturers now have local access to industry-leading vision inspection expertise with the launch of Mettler-Toledo CI-Vision's new European Innovation Centre in Germany. The global manufacturer of vision inspection solutions for food, beverage and pharmaceutical lines has opened the Centre and a new manufacturing facility in response to growing demand for its advanced technology in Europe, largely driven by more stringent quality control regulations and ever increasing focus on consumer safety. With local access to expert consultants and state-of-the-art vision inspection technology, Mettler-Toledo CI-Vision's European Innovation Centre streamlines the evaluation and design process to develop new, cost effective, customised vision inspection technology that meets manufacturers' individual needs.
Mettler-Toledo CI-Vision's inspection technology supports compliance with safety initiatives that require control over product quality as well as producing accurate records for traceability throughout the supply chain. The company's vision inspection solutions can also detect packaging defects such as incorrect labelling, ensure accurate product fill level and confirm seal integrity to support manufacturing profitability, quality assurance and consumer welfare.
"There has been explosive growth in demand for high-quality vision inspection technology in Europe", said Tom McLean, General Manager, Mettler-Toledo CI-Vision. "Rigorous new food safety initiatives in the region, such as the British Retail Consortium (BRC) Version 6 and existing pharmaceutical legislation mean that it is more important than ever before for manufacturers to have immediate access to the latest vision inspection technology as well as expert advice regarding compliance. We have invested in a state-of-the-art Innovation Centre to boost our solution offering in Europe to offer local support to our growing regional customer base".
Mettler-Toledo CI-Vision forms part of Mettler-Toledo's Product Inspection Division, which manufactures metal detection, x-ray inspection and checkweighing solutions as well as data management software for networked data collection and monitoring of food, beverage and pharmaceutical production lines.
About Mettler-Toledo CI-Vision (www.mt.com/ci-vision)
Mettler-Toledo CI-Vision is a leader in vision inspection solutions for the food and pharmaceutical industries.
Since 1979, CI-Vision has been the expert in the design, production and installation of turn-key solutions to detect defective products accurately and reliably in a variety of processes. CI-Vision has developed a committed approach to successfully implementing accurate and reliable vision inspection technology into manufacturers' lines globally.
For more information on the new Evaluation Centre or any aspect of vision inspection procedures and technology, call Richard Reisbig, European Market Manager, for Mettler-Toledo CI-Vision on +49 5121 9330 email [email protected].