Think 'Retsch' for all your food sample preparation needs
Retsch has been a leading provider of sample preparation solutions for nearly a century…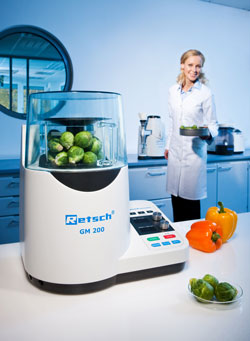 For those involved in quality control and research and development in the food sector, Retsch has been a leading provider of sample preparation solutions for nearly a century.
Why should I contact Retsch?
High quality instruments – Retsch provide mills, sieves and assisting equipment assembled using exceptional quality components that are made in Germany.
Expert consultation – With nearly a century of knowledge in the sample preparation market, Retsch have found the perfect instruments and process for thousands of different materials for customers in all industries. This expertise is available to advise all existing and new customers.
Risk-free purchasing with our trial and demonstration facility – Located at Retsch UK HQ in West Yorkshire, our customer demonstration facility is home to over 20 Retsch instruments. We invite every Retsch customer to trial their sample with us to see which Retsch instrument is most suitable for the required finished state of their material.
What foods and feeds are relevant to Retsch Instruments?
All of them! Retsch provide instruments for all food and feed types including meat, fish, nuts, cereals, grains, pulses, seeds, fruit and vegetables, flavourings, chocolate crumb and cereal bars. Retsch instruments are also provide solutions for temperature sensitive, hard and brittle foods or those with a high water or oil content.
Who would find Retsch machines relevant?
Any person involved in quality control or research and development processes, for example if you need to prepare a sample for NIR, Kjeldahl, Dumas or Falling Number analysis.
Retsch provide milling, sieving and assisting equipment to many of the largest food testing facilities in the world including major, medium and small food manufacturers, contract laboratories and renowned academic institutes.
What products and services do Retsch provide?
Retsch provide mills and sieves to prepare food and feedstuffs of all types. Examples of Retsch Instruments include
How can I contact Retsch UK for assistance with my food stuff?
It's very easy to get in touch with Retsch UK; either by email or phone: 01924 221 074
Visit the Retsch website if you would like to view product videos and see a range of application reports across various food groups and test procedures and much more.