Pat Callaghan to retire as President of Pepperidge Farm
Irene Chang Britt named President – Pepperidge Farm and SVP – Global Baking & Snacking…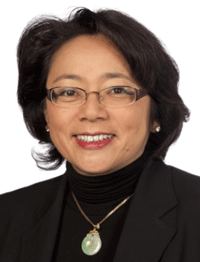 Irene Chang Britt named President - Pepperidge Farm and SVP - Global Baking & Snacking
Campbell Soup Company (NYSE:CPB) today announced that Pat Callaghan, 61, plans to step down as President of Pepperidge Farm at the end of the company's fiscal year, July 31, 2012, after more than 30 years with the company. Campbell named current Chief Strategy Officer, Irene Chang Britt, 49, as the new President of Pepperidge Farm. Britt will be based at Pepperidge Farm's headquarters in Norwalk, Conn. and will report to Campbell's President and CEO Denise Morrison.
Morrison said, "Under Pat's leadership, Pepperidge Farm has developed a culture of consumer-focused innovation, strengthened its brands and delivered consistently strong business results with seven consecutive years of top-line, bottom-line and market share growth. As we work to accelerate Campbell's rate of innovation, Pepperidge Farm can serve as a model. Pat has served our company with distinction for more than 30 years. In addition to his many business accomplishments, Pat has been a coach and mentor to countless people in our organization. We wish him and his family well in his retirement."
As of the start of Campbell's next fiscal year, Britt will assume leadership of Pepperidge Farm, which Campbell acquired in 1961. The company has nine manufacturing facilities and nearly 5,000 U.S. employees. Britt will also be responsible for developing Campbell's Global Baking & Snacking strategy and for building on the successful collaboration already established between Pepperidge Farm and Arnott's. With net sales approaching $2.3 billion per year, Campbell is the No. 3 global player in the baked snacks category and has a high-quality, premium fresh and frozen bakery business in the U.S.
Morrison said, "Throughout her career, Irene has consistently grown businesses through a focus on brand building and innovation. She has played a crucial role in defining Campbell's new growth strategies and has been a valued partner to me as we charted a new course for our company. Irene's relentless focus on the consumer, track record of successful innovation and delivery of business results make her an ideal candidate to succeed Pat."
Britt became Senior Vice President and Chief Strategy Officer in October 2010 with responsibility for Campbell's Global Strategy, Global Marketing Services, including Advertising & Design, and Global Consumer and Customer Insights. Prior to that, Britt served as President-North America Foodservice, leading the foodservice business and the retail perimeter business across the United States and Canada. She also served as Vice President and General Manager-Sauces and Beverages with responsibility for the U.S. Beverage portfolio and the "Prego" and "Pace" sauces businesses. Under Britt's leadership, the Sauces and Beverages business delivered three consecutive years of top- and bottom-line growth, including consistent gains of net sales, market share and profit on the company's U.S. Beverage business.
Before joining Campbell in 2005, Britt spent eight years with Kraft Foods, including positions as Senior Vice President and General Manager of the Salted Snacks division and Post Cereal division. Before that, she spent 12 years at Kimberly-Clark, where she held marketing positions and key assignments in sales and research and development.
Britt is a member of the Board of Directors of Sunoco, Inc. She also serves on the Catalyst Board of Advisors and on the Students In Free Enterprise (SIFE) U.S. Executive Advisory Board. She earned her bachelor of arts degree from the University of Toronto and her M.B.A. degree from the Richard Ivey School of Business at the University of Western Ontario.
Callaghan to Retire
Callaghan will step down as President of Pepperidge Farm on July 31, 2012, and become a Special Advisor to the CEO until Nov. 1, 2012, when he will retire from Campbell.
Callaghan joined the Pepperidge Farm sales team in 1979. He became President in 2006 and has led the company during one of its strongest growth periods. He has inspired his team to deliver consistently strong business results, driven by a continuous stream of innovation. Since 2006, Pepperidge Farm has introduced a range of innovations, including "Milano Melts," "Milano Slices," "Baked Naturals Snack Crackers," "Cracker Chips" and "Deli Flats" thin rolls, among others. Under Callaghan's leadership, Pepperidge Farm extended the high-growth "Goldfish" brand to sweet treats and to the bread aisle. In addition, the company was voted to the top spot in the Best Places to Work in Connecticut competition. Pepperidge Farm is currently constructing a $30 million innovation center, which will be complete in September 2012.
Related organisations
Related people