FOOD FACTORY 2012: Registration is open
The 6th international conference on the food factory for the future will be held in Laval, France on 4-6 July 2012…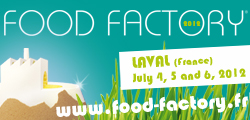 The 6th international conference on the food factory for the future will be held in Laval, France on 4-6 July 2012.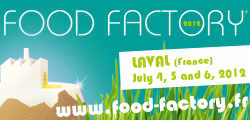 This conference, jointly organised by Laval Mayenne Technopole (LMT) and SIK, the Swedish Institute for Food and Biotechnology, is held every two years, in Laval or Gothenburg. Following 2010's successfull event in Gothenburg, this year's installment looks very promissing, with 70 submitted communications.
The 2012 event is organised around four sessions:
Process design
Microbial and chemical food safety
Minimal processing
Smart process control and automation
A brokerage event, called Food Factory Dating, will also be taking place over the three days. Attendees will have the opportunity to plan ahead, on the website, individual meetings with other participants. This will be an ideal opportunity to discuss scientific cooperation, technology transfer and any business questions.
Food Factory 2012 will be an opportunity to share and transfer knowledge amongst the food industry and the scientific community, as well as to take part in an active and creative forum for development of new ideas and potential innovations.
The scientific programme is available on the conference website, and registration is now open. A special Early Bird tariff is available until 4 May 2012.
We hope to see you in Laval in July to share top level knowledge for the benefit of European food industry.
Nicolas Chomel – Laval Mayenne Technopole
Chair of organising committee
Alain Le Bail– ONIRIS (Nantes)
Chair of the scientific committee
Karin Östergren – SIK
Organising committee
View website: www.food-factory.fr