U.S. $60 million investment made in King Abdullah Economic City, Saudi Arabia
Mars is breaking ground on its new, state-of-the-art manufacturing facility in King Abdullah Economic City, Saudi Arabia…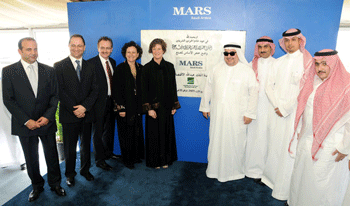 King Abdullah Economic City (KAEC) and MARS Saudi Arabia are excited to announce that Mars is breaking ground on its new, state-of-the-art manufacturing facility in King Abdullah Economic City, Saudi Arabia.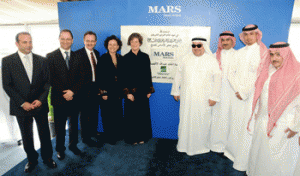 The facility, which will begin operating by 2014 producing GALAXY® and GALAXY JEWELS®, will be one of the largest chocolate factories in the GCC region. Mars Saudi Arabia has made an initial investment of U.S. $60 million with an additional U.S. $150 million planned over the next 10 years. The facility will be built to LEED Green Building standards and will initially employ 60 Mars associates on the project team with a further expected 300-400 associates once the factory is fully operational.
"Our long terms partnership comes to further prove that King Abdullah Economic City has the ability to attract leading companies from diverse industries from across the globe, and we are pleased to have Mars Incorporated establish their presence at KAEC's Industrial Valley as the world's leading confectionary". Mr. Fahd Al-Rasheed, Managing Director and CEO of KAEC commented.
He further added: "The Industrial Valley enjoys high quality services and facilities that come together to deliver an ideal industrial and operational hub however, the extraordinary Government support of the Custodian of the Two Holy Mosques, King Abdullah Bin Abdulaziz Al-Saud has not gone unnoticed with the linking of KAEC to the Kingdom's gas network, the commencement of Al Haramain Railway project in KAEC, linking Makkah and Madina via Jeddah and KAEC".
Mr. Ahmed Linjawy, President of Industry and City Services in KAEC added, MARS is one of the largest and most respected names in the confectionery industry. Their presence is another example of why leading international manufacturers would establish their new factories at the Industrial Valley in KAEC."
He added "KAEC's Industrial Valley introduces the best global standards in master planning to attract leading global and local tenants, whilst KAEC have thoroughly studied the needs of local players to ensure meeting their needs as well. All land plots at the Industrial Valley are fully serviced with electricity, water, sewage network; telecommunications services, paved roads and storm water drain system".
MARS Incorporated has been operating in Saudi Arabia for 30 years and contributed to the direct and indirect job creation of a thousand jobs to date. The company is excited by the prospect of investing more in Saudi Arabia over the longer term, creating opportunities for Saudi nationals, and in supporting community-based programs to benefit Saudis as the company has done in other parts of the GCC. The business is especially keen to encourage Saudi women who want to work, and for whom Mars is an appropriate professional environment, to join Mars Saudi Arabia and grow professionally.
Mohamad Safieddine, General Manager at Mars Saudi Arabia said at the launch: "Developing and nurturing Saudi talent is an important priority for Mars. We are going to invest in the Kingdom's talented people through offering trainings, internships and partnerships with local educational establishments and by focusing opportunities for Saudi women in fields such as marketing, sales, finance, engineering, as well as research and development."