New from Retsch Technology: The best in optical particle sizing
The Camsizer range features the Camsizer and the Camsizer XT…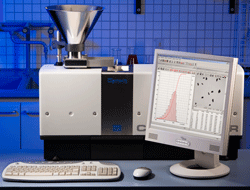 What is the Camsizer range?
The Camsizer range features the Camsizer and the Camsizer XT; laboratory instruments for simultaneous measurement of particle size distribution, particle shape and additional parameters of powders and granules.
How do they work?
The Camsizer uses a unique, digital two-camera system to measure solids from 30 µm to 30 mm. The result is a complete distribution of size and shape of your powder or granules and 100% compatible to those of sieve analysis. The Camsizer XT is suitable for finer samples from 1 µm to 3 mm and can be used to measure fine powders, fine particles which tend to agglomerate or particles suspended in a liquid medium.
The sample is simply fed into the machine and a data capture is made by the two-camera system. This outputs on the Camsizer software to show a highly accurate statistical or graphical results of your sample. The machine is very easy to clean, operate, is wear and maintenance-free.
Where are they used? What foodstuffs can they be used with?
For an extremely wide range of applications in quality control and research and development processes, including pulverized and granulated food samples, both in dry and liquid states
What's the benefit?
Within seconds, you can obtain extremely accurate data of your sample to improve your product quality, reduce waste, energy and raw materials.
How can I learn more?
Visit the Retsch Technology website (http://www.retsch-technology.com/rt/products/dynamic-image-analysis) for more information, email us ([email protected]), book a demonstration at our customer laboratory or phone +44(0)1924 221 074.