New appointments at Royal Duyvis Wiener
Mr. Thomas Matosek, International Sales Manager and Mr. Jürgen Neumeister, Manager E&I and Process Automation…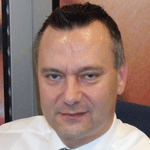 Mr. Thomas Matosek, International Sales Manager
Royal Duyvis Wiener and F.B. Lehmann, is a global market supplier of a variety of turn-key solutions and 'stand-alone' equipment for the production of chocolate, compound, nut pastes and fat based creams for the chocolate and confectionery industry.
It is our pleasure to inform you that we have expanded our team with two new international members: Mr. Thomas Matosek, International Sales Manager and Mr. Jürgen Neumeister, Manager E&I and Process Automation. Both gentlemen have joined Royal Duyvis Wiener B.V. since the 1st of January 2012.
Mr. Thomas Matosek is an experienced sales manager, who has an impressive track record. He has been working for twelve years at Bosch Packaging and in the past eight years he was employed at Hosakawa Bepex. Besides German and English he also speaks fluently Spanish and Portuguese, which is a great advantage in communicating with our customers in Central – and South America.
Mr. Jürgen Neumeister is very experienced in process controls and process analyzing systems. He worked for seven years as an engineer in process control for thermal steel treatment and in the past nineteen years as manager of electrical department at Buhler-Barth.
We are honored that Mr. Neumeister and Mr. Matosek have chosen to work for Royal Duyvis Wiener. Their experience will strengthen our professional and international team.
Related organisations
Related people