F.B. Lehmann, the center for special mechanical engineering in the world-wide confectionery industry
Since Royal Duyvis Wiener and F.B. Lehmann joined forces…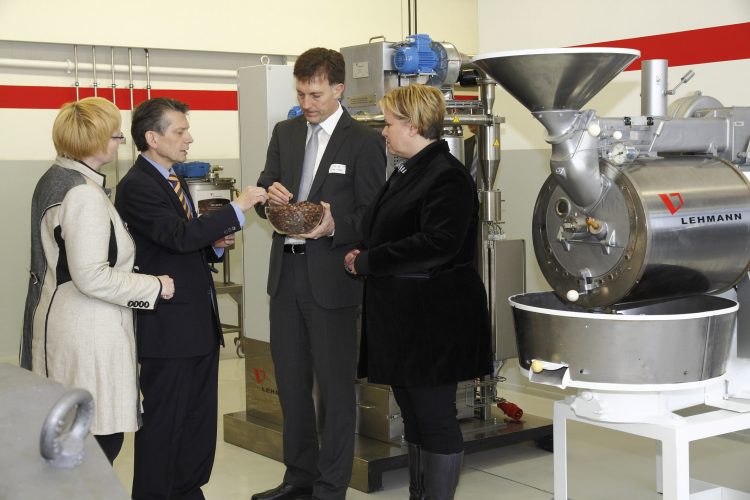 Since Royal Duyvis Wiener and F.B. Lehmann joined forces, developments have taken a great leap forward.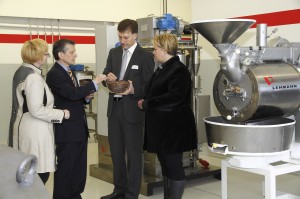 During the open day in October 2011, F.B. Lehmann already announced that a completely renewed Technology Center would be opened in Aalen.
On February 2nd 2012, the Mayor of Aalen Mr. Martin Gerlach, has officially opened this new Technology Center.
The Mayor stated to be happy to witness the development of F.B. Lehmann since they were acquired by Royal Duyvis Wiener. He commended the staff and management for their effort in the development and innovation of the machines. The Mayor was impressed about the new Technology Center in which four complete production processes can be used for trials. Around 60 customers and representatives from over 30 countries joined the official opening, following their visit to the ProSweets in Cologne.
Their reactions were overwhelming. Both customers and agents pointed out that a Technology Center with this range of possibilities is of great additional value for the confectionery industry.
As they said: "It is an impressive, modern and professional facility".
This completely modernized Technology Center enables F.B. Lehmann to serve you even more efficiently. Whether it concerns trials with your specific ingredients, recipe development, or fine-tuning of recipes for roasting and grinding, the possibilities are massive.
Trials with real chocolate, compound chocolate, bread spreads, coatings, creams and fillings, can be performed by our specialized technologists, who like to be challenged by your specific demands, either at F.B. Lehmann in Germany or Royal Duyvis Wiener in the Netherlands.
The opening and the tour through the new Technology Center was followed by a tour around the factory. There was especially interest for the newly developed continuous roaster, which minimizes the energy consumption up to 50%. Besides this roaster, F.B. Lehmann showed the visitors the latest innovation the 2 & 5 Roll Refiner, overhaul projects of 5 Roll Refiners, finalized production lines and sterilizing-, winnowing- and roasting equipment which were ready for shipment.
According the managing directors of F.B. Lehmann GmbH, Mrs. Solvej Schenk and Mr. Volker Kaul, the opening was a great success!
Related organisations
Related people