Enhancing performance with lubrication solutions
Inken Reuser, Offer Advisor at ExxonMobil, explains how high performance synthetic lubricants combined with the right services can help operators optimise the performance of their processing equipment.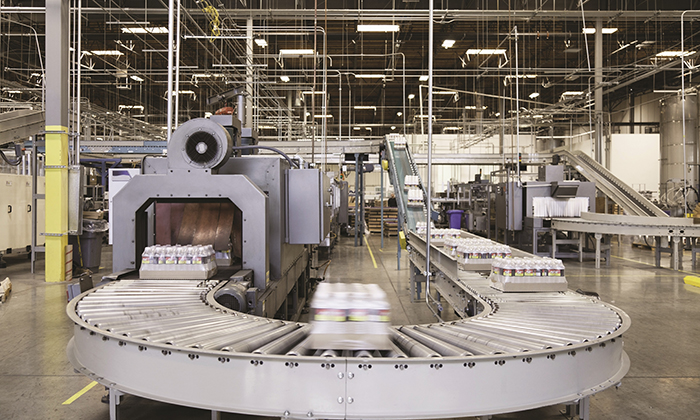 Lubricants used in the food processing sector are often exposed to high temperatures for prolonged periods. This can adversely affect their performance, which risks unscheduled maintenance and avoidable downtime. However, the use of high performance synthetic oils and greases, combined with a fully featured maintenance programme, can help mitigate this while also safeguarding productivity.
This programme should also include a used oil analysis service as this can help food machinery operators enhance equipment reliability and performance. The process does this by enabling users to proactively identify potential equipment maintenance issues before they become a problem. This, in turn, can help to reduce unscheduled downtime, improve equipment life and extend oil drain intervals.
Used oil analysis is best described as a blood test for machinery. By gaining insights into the condition and performance of lubricants, and the presence of contaminants, it is possible to take preemptive action that can prevent issues such as deposit build-up and wear, helping to maintain equipment reliability.
However, not all oil analysis services are the same. For example, ExxonMobil's Mobil Serv Lubricant Analysis offers 25 testing options, including for air compressors, hydraulic systems and gears. When routinely implemented, these tests can enable operators to track lubrication trends and spot anomalies, such as changes in viscosity.
High Performance Oils at Work
A switch to ExxonMobil's Mobil SHC CibusTM 150 recently helped a US food processor extend the oil drain intervals of the gear boxes in its meat grinders. This, in combination with lubricant's excellent water separation, resulted in an estimated annual maintenance saving of USD $325,0001.
The Tennessee-based food processor was lubricating the gearboxes of its meat grinders with a standard 80W-90 oil, which was vulnerable to water contamination. As a result, maintenance personnel were detecting high levels of emulsification in the gearbox lubricant, which caused significant additional labour costs associated with changing out the contaminated oils. The company therefore approached Best Wade Petroleum, an authorised ExxonMobil distributor, to determine a suitable lubricant option capable of resisting water contamination.
Working with Best Wade, ExxonMobil engineers recommended a switch to SHC Cibus 150, a high performance, NSF H1 registered synthetic lubricant. Formulated with a naturally high viscosity index and proprietary additive system, Mobil SHC Cibus 150 is designed to provide excellent water separation and corrosion protection in a wide variety of food machinery applications. In addition, desiccant breathers were recommended to minimise contamination.
This resulted in extended oil drain intervals and lower overall lubricant usage/disposal. In addition, with less water contamination the number of gearbox failures reduced, allowing for less machine interaction by maintenance personnel and more reliable production. These maintenance programme improvements generated a company-estimated annual savings of USD $325,0001.
Combing Experience with Innovation
ExxonMobil works closely with Original Equipment Manufacturers (OEMs) through its Equipment Builder (EB) group to promote used oil analysis as a key tool in predictive maintenance. When properly implemented it can provide valuable insights into both lubricant and equipment performance, helping to:
• Increase productivity
• Reduce unscheduled downtime
• Improve equipment durability
• Cut lubricant consumption
These benefits, coupled with next generation synthetic lubricants, can offer significant performance enhancements. As a result, food processing facilities can ensure profitable, efficient and safe productivity.
1Based on the experience of a single customer. Actual results can vary depending upon the type of equipment used and its maintenance, operating conditions and environment, and any prior lubricant used.