Burton's Foods rebrands to the Burton's Biscuit Company
Posted: 21 November 2011 | Lexis The Recommendation Agency | No comments yet
Burton's Foods, announces it has undertaken a corporate rebrand and changed its trading name to the Burton's Biscuit Company…

Burton's Foods, a leading player in the UK biscuit market, announces it has undertaken a corporate rebrand and changed its trading name to the Burton's Biscuit Company. Reflective of the company's strategy of being a focused leader in the biscuit market, the rebrand represents a significant milestone in the company's transformative journey over the past two years.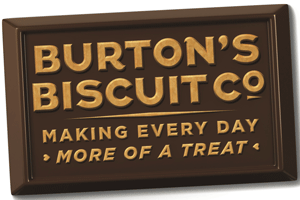 The Burton's Biscuit Company, which produces iconic and much-loved brands including Cadbury Biscuits, Jammie Dodgers, Maryland Cookies and Wagon Wheels, is the only major UK biscuit company that focuses solely on biscuits. Its rebrand (new name, logo and business approach) supports the organisation's progressive business strategy.
Deployed in 2010, the corporate strategy focuses on delivering quality products; driving innovation in the biscuit category through its Power Brands; maintaining a rapid pace and agility on a corporate and brand level; and expanding its international footprint to deliver continued growth.
Retaining elements of its proud heritage and better aligning the company's strategic focus and brands within the sweet snacking category, the rebrand features the introduction of two new iconic devices to visually represent the organisation.
As part of the rebrand, the company has also introduced a new strapline for the business, "making every day more of a treat", which aims to reflect its relentless focus on quality and innovation, and the premium nature of its Power Brands and their ability to delight consumers.
Ben Clarke, CEO of the Burton's Biscuit Company, commented: "The past two years have seen progressive changes at Burton's, as we've transformed ourselves into a successful and dynamic UK manufacturing business. The rebrand, as part of this transformation, represents not only our past achievements, but also our future ambitions as we continue to go from strength to strength."
Branding at the Burton's Biscuit Company's offices and factories, changes to its packaging and a new website will all be completed by early 2012.
Related organisations
Related people