Campbell elects Denise Morrison President & CEO
Campbell Soup Company announces that the Board of Directors has elected Denise Morrison as President and CEO…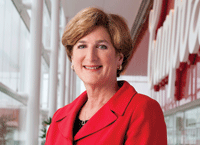 Campbell Soup Company has elected Denise Morrison as President and CEO
Campbell Soup Company (NYSE:CPB) announced today that the Board of Directors has elected Denise Morrison, 57, as President and Chief Executive Officer, effective Aug. 1, 2011, the first day of Campbell's next fiscal year. In October 2010, Morrison was named Executive Vice President and Chief Operating Officer and elected a Director of the company in anticipation of her appointment to the role of CEO at the beginning of fiscal 2012.
Morrison will succeed Douglas R. Conant, 60, who will step down as President and CEO on July 31, 2011, after more than a decade in that role. Conant also will step down from Campbell's Board of Directors at that time.
Paul R. Charron, Chairman of the Board of Directors, said, "Denise is a superb leader with strong operational skills, comprehensive knowledge of the business and the food industry, and powerful insights into the opportunities for driving profitable growth across Campbell's portfolio. The Board is confident that the company will flourish under her direction. We are very pleased by the success of this leadership transition, and look forward to the next exciting chapter in the evolving story of an organization with a rich history and a vibrant future."
Morrison has more than 35 years of experience in the consumer packaged goods industry. She began her career at Procter & Gamble in 1975, and later held positions of increasing responsibility at PepsiCo, Nestle USA, Kraft and Nabisco. After joining Campbell in April 2003 as Chief Customer Officer, she was appointed President of Campbell USA in 2005, and President of North America Soup, Sauces and Beverages in 2007. In her current role as Chief Operating Officer since October 2010, she has led all of Campbell's global businesses, including Campbell North America, Campbell International and Pepperidge Farm, as well as corporate strategy, research and development and global marketing services. Morrison previously served as a director of The Goodyear Tire & Rubber Company and Ballard Power Systems Inc. She earned her B.S. degree in economics and psychology from Boston College.
"I'm honored and inspired by the appointment to lead this great company," said Morrison. "At a time of rapid change and significant challenge in the food industry, we have the people, the brands and the opportunities to unlock the potential of our business and build shareholder value. In the past nine months, I have had the privilege of working closely with our Board and our leadership team to examine our business with fresh eyes and design a new strategic direction for the company. We are immensely energized by our plan and by the skill, commitment and values of the Campbell organization. Building on the strong business foundation and exceptional culture that are Doug Conant's distinguished legacies, we will drive a new era of growth at Campbell."
Related organisations
Related people