Rexam and Pure Product GmbH sweep 3 Beverage Innovation Awards for OCÓO Beauty Drink
Rexam Beverage Can Europe and Pure Product GmbH won 3 separate awards at the Beverage Innovation Functional Drinks Awards 2011…
Rexam Beverage Can Europe and Pure Product GmbH won 3 separate awards at the Beverage Innovation Functional Drinks Awards 2011...
Rexam Beverage Can Europe and Pure Product GmbH won 3 separate awards at the Beverage Innovation Functional Drinks Awards 2011.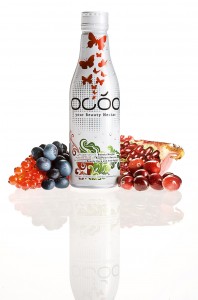 Rexam and Pure Product were announced as the winner of the Best Packaging award for Rexam's aluminium FUSION bottle designed for the OCÓO Beauty Drink produced by Pure Product GmbH based in Hamburg, Germany. OCÓO and Pure Product continued the success by taking the awards for Best Functional Drinks Brand or Business and Best Marketing Campaign.
Alex Jennings, Vice President of Sales & Marketing at Rexam Beverage Can Europe & Asia commented on Rexam's success at the awards; "We are really proud of the OCÓO FUSION bottle, the design is fun and eye catching, and the qualities of the FUSION bottle really add to the packaging design. It is fantastic that the bottle has been recognised in not only one but three categories at the Beverage Innovation Awards and great credit must go to the design and manufacturing teams here at Rexam."
Martin Speer, co-owner of Pure Product, was delighted to receive the recognition for OCÓO; "We've worked hard to bring OCÓO – your Beauty Nectar to the market and consumers love it. Rexam's FUSION bottle is the perfect package for the product – it's contemporary and premium feel supports our brand and enhances the light and refreshing experience of drinking OCÓO. We've enjoyed working with Rexam on bringing this to market and it's tremendous to get this recognition for our business and everyone who has worked on making OCÓO such a success."
OCÓO is a light and fruity beauty enhancing drink packaged in Rexam's FUSION bottles. The beauty drink, with an active ingredient complex that is proven to create radiant skin and hair, is given a striking and trendy image by the aluminium bottle. The FUSION bottle is a breakthrough innovation in the market and uses Drawn Wall and Ironed technology to combine the functional elements and superior graphic design potential that the can offers with the premium look and feel traditionally associated with the bottle. FUSION bottles are easily chilled, 100% recyclable and come in a variety of sizes, providing the perfect packaging for the OCÓO drink in complimenting the lifestyle of the consumer.
Welf Jung, Business Development Director at Rexam Beverage Can Europe & Asia, led the Sales team that worked with Pure Product; "We have a great relationship with Pure Product. We have been working closely together to produce a packaging option that is new and innovative and helps to give the OCÓO product a real impact on both the shelf and with the consumer. It is great to win these awards in recognition of a great product."
The awards were presented at a prestigious gala evening during the 7th Global Beverages Summit in Washington DC at the end of March.