Safety at the highest level of sophistication
The Vistus metal detector features a winning combination of easy operation and high performance…
The Vistus metal detector features a winning combination of easy operation and high performance...
The Vistus metal detector features a winning combination of easy operation and high performance.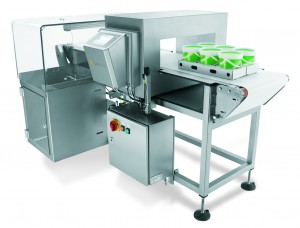 Completely traceable quality control, safe and reliable production processes and, above all, consumer protection by supplying perfect-quality products is currently the top priorities on the agenda of food groups and pharmaceutical companies. Just one contaminated product is all it takes to impair the health of consumers and to damage the reputation of a company on a lasting basis. In this context, metal contaminants are the focus of scrutiny.
The use of metal detectors protects not only consumers but also downstream machinery and processes. Otherwise, undetected foreign particles in a production process frequently cause a complete halt in production. These particles, chips or splinters can originate from normal wear, frictional wear and from machining, carelessness on the part of production employees or from maintenance, and can make their way into a production line. For this reason, in line with HACCP requirements, critical control points are defined in a process at which products are tested for the presence of metal contaminants.
Vistus is a brand-new generation of metal detectors engineered by Sartorius. With this series, the company is setting new standards in performance power and user-friendly operation. Thanks to high-quality components and an enormously wide range of frequencies, the Vistus series delivers maximum detection performance and reliability.
The Vistus metal detector is available in a wide choice of designs: coils with rectangular apertures ranging from just a few centimetres to several meters, round-aperture coils with a reduced metal-free zone, and even special detectors for testing individual tablets. Vistus is optionally available with a reduced metal free zone, which is primarily advantageous for installation in limited space, as is the case with drop shaft systems, for example.
Moreover, the new Vistus metal detector offers the possibility of choosing up to three frequencies in a range of 60 to 1,000 kHz and to thus use a single detector to cover low, medium and high frequency ranges. As a result, this metal detector can optimally adapt to accommodate different product characteristics and attains the highest sensitivity levels for all magnetic and non-magnetic metals. Despite the high sensitivity of the Vistus metal detectors, they demonstrate their truly rugged capabilities in standing up to the rigors of production processes. Whether operated in wet or dry environments, the Vistus series metal detectors effortlessly withstand cleaning even using high-pressure equipment.
Whether the user is an administrator, quality assurance manager, technician, maintenance technician or a standard production line operator, you name it, all these user groups have a number of specific requirements on the operating system of a detector. For each of these different user groups, Vistus offers customized dialogues and thereby dramatically reduces the complexity involved in operating a metal detector. In addition, the new metal detector is capable of auto-learning products and of saving all the necessary parameters. This enables fast switching from one product to another during a production run in progress.