BEHN + BATES to present its new hygienic concept CARE-LINE at interpack 2017
At interpack 2017, BEHN + BATES will present its new packing machine Roto-Packer Adams CARE-LINE Edition…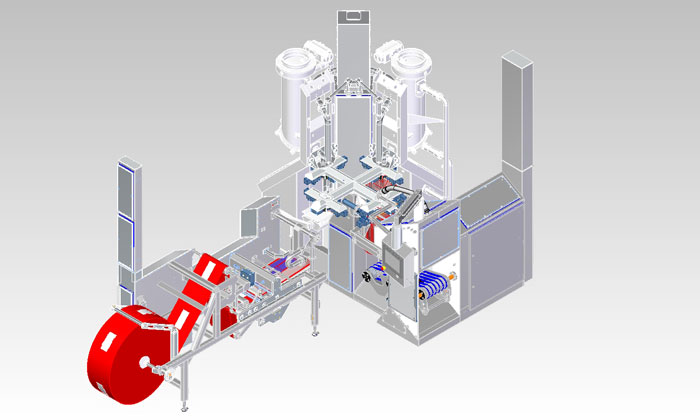 Right at the beginning there was the PE film…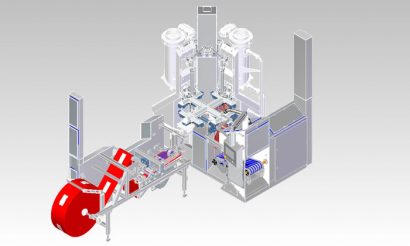 Hygienic experts consider plastic bags to be the most hygienic packing material for highly sensitive food products, e. g. baby food. The risk of contaminations is already reduced to an absolute minimum during the production of PE films. However, the machines on the market today have not been able to meet very high hygiene standards. Based on this, the German packaging manufacturer BEHN + BATES, concentrating exclusively on the food industry with its entire expertise, developed the idea for a new hygienic machine for PE film bag filling. For the first time in its company history, the entire process of machine development has closely been followed and accompanied by one BEHN + BATES key customer – as well as by the PE film producer who parallel developed a new optimised double-layer gusseted film for even better product protection in future.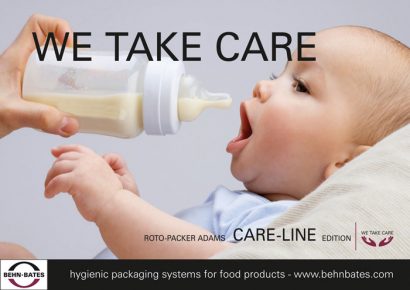 At interpack 2017, BEHN + BATES will present its new packing machine Roto-Packer Adams CARE-LINE Edition.
The specialty: Proven machine components are combined in an absolutely new way in order to minimise dust deposit areas and guarantee optimum cleaning features. Some examples are: The number of integrated components is reduced to the minimum absolutely needed for proper functioning. All parts are encased. There are nearly no machine parts such as screws, nuts, etc., that could fall into the product during filling, above the open bag. Machine edges are inclined, machine corners are rounded. There are no open threads, edges and drill holes in the sectional steel frame. In other words there are no points where product dust can build up. Thanks to the inclined edges and rounded corners product dust deposits can easily be removed.
EHEDG-certified components
During the development of its new machine BEHN + BATES put special focus on the selection of components: A majority of parts in the hygienic machine are certified by EHEDG (European Hygienic Engineering & Desing Group).
Novelty in the machine function: PE film welding with perfect edge definition
The new BEHN + BATES packing machine Roto-Packer Adams CARE-LINE is an FFS system for filling powders into common PE film bags – and more especially into double-layer PE film bags for even better product protection. This means: Same as in every known FFS machine the bag is formed from an endless gusseted film. Then it is filled and sealed. The attention to detail – or in the case of BEHN + BATES the attention to hygiene can be seen from the PE film Page 2/4 sealing: The new machine makes it possible – for the first time – to seal PE film bags up to the outer edge. It has a perfect edge definition in order to protect the products in the filled bag better than ever before from vermin, dirt, deteriorations, etc.
All this can be seen within a cleanroom scenario on stand no. D08 in hall 12 at interpack 2017 in Duesseldorf, Germany.