Chr. Hansen receives prestigious HR award
Jesper Allentoft today received the "HR Manager of the Year" Award…
Jesper Allentoft today received the "HR Manager of the Year" Award...
Jesper Allentoft today received the "HR Manager of the Year" Award. Initiated by the Association of Human Resource Managers in Denmark (Personalechefer I Danmark – PID) the award was presented to Jesper Allentoft at the annual Human Resource Fair "HR Træfpunkt 2010".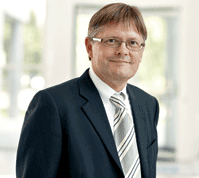 In his motivation for the award, PID Chairman Kim Staack Nielsen stressed Chr. Hansen's continued professional and strategic focus on people development.
"The award goes to a company who is at the forefront with their highly specialised field of business thanks to a professional approach to development and innovative development programs. Chr. Hansen strives to ensure that people development remains high on the agenda at all levels. In particular, the award is presented to Chr. Hansen for the innovative development of a unique program named "Knowledge Pilot – The Professional Specialist", said Kim Staack Nielsen.
Jesper Allentoft who has been the driving force behind the development of the program is very pleased to receive the award on behalf of Chr. Hansen. The Knowledge Pilot program offers high-level training and development designed to professionalize the role of this highly educated group of employees at a time when they become more and more in demand.
"It is a great acknowledgement to receive this award. As a knowledge-based company, Chr. Hansen is highly dependent on having committed and creative employees. During the past five years of organizational change, we have maintained focus on people development and on creating job and career opportunities for our employees. The Knowledge Pilot program is designed to train the company's specialists in becoming more aware of how they can translate and use their expertise into business value and contribute even more to Chr. Hansen's continued growth and success", emphasizes Jesper Allentoft.