Twice as Effective – Prevention and Foresight
The Internet of Things (IoT) has reached production. Predictive maintenance is now an integral part of Aventics' customer meetings…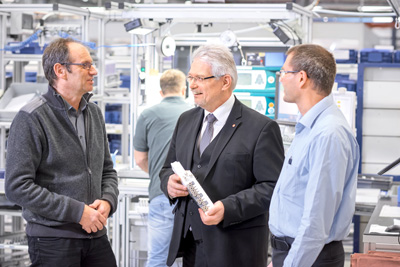 The Internet of Things (IoT) has reached production. Predictive maintenance is now an integral part of Aventics' customer meetings. The pneumatics experts observed that, while in the past concerns focused mainly on an extended product service life, today predictive maintenance has become equally important.
"We recognized the need early on and already considered the topic when developing our most advanced generation of valves," explains Dieter Michalkowski, IoT expert at Aventics. Machines are becoming key strategic factors of success, not only for large corporations with production systems that are often worth several hundred million euros, but also for medium-sized businesses. Maximum utilization of machine capacities, no stoppages, short maintenance breaks, short cycle times, and just-in-time production are essential topics. To ensure smooth operation, forward-thinking servicing, or "predictive maintenance", is becoming more and more important.
Predictive maintenance – crystal ball or professional tool?
Predictive maintenance is available even for limited budgets. Aventics utilizes already existing sensors to diagnose the status of systems. For example, wear components such as shock absorbers are monitored using the installed cylinder switches. "This enables us to establish the condition of shock absorbers, as well as actuators or guides, by monitoring the time response for the process steps. This has nothing to do with fortune telling and crystal balls, it is precision engineering based on extensive pneumatic expertise," points out Michalkowski.
The rapidly increasing digitization of machines and systems creates the basis for this approach. "At the same time, we keep an eye on investment security – existing systems and components must be compatible with both older and future versions. To us, this is part of the development process. In machine and system construction we follow a different approach than, for example, the IT sector – systems ordered today must remain productive tomorrow and beyond," he emphasizes.
At Aventics, the AV series valve system with the innovative AES series electronics constitutes the basis for IoT applications. The product range includes valves with a long service life that tops 150 million cycles, as well as electronic components that enable processing of the collected data. Process signals are recorded locally via I/O modules and transferred to the control. The combination of AV and AES series is the hub that links actuator and sensor signals. These can then be evaluated to recommend measures for predictive maintenance – no additional components are required.
Michalkowski is certain that "IoT demands shared protocols and interfaces across all levels and technologies." Data is exchanged via real-time Ethernet. This requires cross-manufacturer approaches.
Project-based cooperation with sensor manufacturer ifm electronic
Aventics has expanded its cooperation with ifm electronic GmbH for IoT applications. The pneumatics specialists want to pool their knowledge with that of the manufacturer and supplier of sensors and controls. The aim of the joint activities is to fully and reliably monitor and analyze all data online, independent of the machine control, to increase customer benefits. Thanks to direct communication of sensor and pneumatic systems, machine status data, such as the current energy consumption, can be monitored more effectively than before and optimization measures introduced early on. With this approach, both companies support the implementation of the European Energy Efficiency Directive (EED). According to the new directive, all enterprises with 250 employees and more must complete an energy audit by the end of 2016 and furnish proof of a certified energy management system to ISO 50001 or environmental management system to EMAS.