The Snack Big Bang
We at Franz Haas believe that it also takes courage and vision to reach for the stars. Join us on this journey to the snack stars…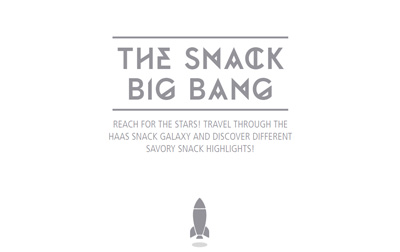 "A journey of a thousand miles begins with a single step," ancient Chinese philosopher and writer Lao Tse once said.
We at Franz Haas believe that it also takes courage and vision to reach for the stars. Join us on this journey to the snack stars and become acquainted with a world full of new and innovative ideas.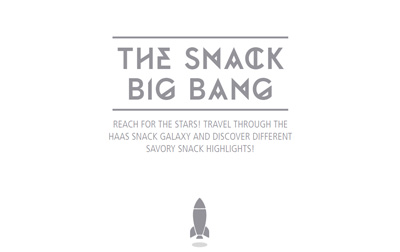 The snack market is following new trends. An important part of our daily work is to research trends and develop new product ideas. This way we can provide you with optimal support and ensure that you have a competitive edge over the market. Our journey to the snack stars leads us to:
Scooper
Scooper the light, crispy snack scoop made of chickpea flour and papadum spices, which is a perfect part of light snacks owing to its fat content of only 9 % – perfect for dipping and scooping. Innovative shapes are essential in new snack trends, whether neatly stacked in packaging or loose in larger packaging. Combined, these snack shapes make the perfect companion for salsas and dips. The recipes range from classic corn flour to exotic gram flour with papadum spices and therefore offer room for many different product varieties. Scooper is a protein source, rich in fiber and contains less than half of the fat of comparable fried products.
Nosh
Nosh, the nacho of the next generation. Made from corn flour and with a crunchy bite, it can be paired with any seasoning you desire. From BBQ to salt-and-vinegar, there are no limits to the possibilities. Diverse and creative flavors are the secret of new nacho chips. Customers are looking for a "kick" in imaginative combinations of various spices. Nosh is the perfect foundation for this trend and it features a fat percentage of only 18 %. Nacho chips offer a particularly crunchy bite. Even "rework" can be mixed with the seasoning to maintain an even crunchier bite. Enjoyment to the last chip.
Salubrious
Salubrious is the snack for all those looking for a gluten-free option. Made from millet, it is a valuable source of fibers and has a hearty flavor. Either as a classic cracker or with a topping of Nori seaweed, sesame, poppy seed or even cheese, Salubrious enriches the world of gluten-free chips by adding innovative flavor options and recipes. The shape is also customizable – either in stacks of crackers of various sizes or in a smaller chip size, it works equally well as a surface for spreads and as a cracker for salsas and dips. A rich variety of snacks for all those with special nutritional needs.
Vigor
Vigor, the power pack among snacks. Enriched with beta glucan, it is a valuable component of healthy new nutritional concepts, either for a snack break or while exercising. Rich in protein, it is an all-around talent to cure those little hunger pangs. Healthy nutrition is, according to recent trend studies, becoming more and more important to consumers. Enjoyment, however, cannot be ignored either. Vigor combines these qualities perfectly. In addition to healthy basic recipes, this snack made of rye, millet or fava beans contains important ingredients such as beta glucan. Beta glucan actively supports heart and digestive health and makes this snack an ideal part of any active, healthy lifestyle. The cracker shape also gives you the option of turning the chip into a "fitness sandwich" by adding a layer of protein-rich cream.
All four represent new trends that are currently making their way into the market
All four concepts represent new trends that are currently making their way into the snack market. Their names represent their properties. Scooper stands for the shape i.e. scoop, spoon. Vigour stands for strength and pertains to physical fitness, nosh is an abbreviation for noshing or snacking, and salubrious is the gluten-free category.
We can already offer you the recipes as well as the equipment to produce them. And our four stars are, of course, far from all that there is to discover. Let our technologists help you to create your own custom recipes, textures and chip shapes!
Technology and Product Development
We at Haas believe that the development of new and innovative recipes is an important building block for the success of every product. That is why we support our customers with state-of-the-art laboratories and the expertise of our food technologists. "The new product trends are headed in the direction of innovative ingredients such as corn, millet or fava beans. But our customers are becoming more interested in local ingredients all the time as well, since the chips should not only taste great, but they should also fulfill our customers' demands in terms of health, fitness and sustainability. My team and I would love to support you in developing your own custom recipe," Andreas Clemenz, Head of Application Technology at FHW Franz Haas Waffelmaschinen GmbH offered.
Packaging and Transfer to Packaging 
Snacks are sensitive products, and therefore they ought to be handled delicately. "Packaging and, in particular, the transfer to the packaging machines are essential here. Our customers are the specialists when it comes to attractive and high-quality ways to package their products in order to guarantee that they will receive attention on the shelf. Through our process expertise, we help them in arranging the product efficiently and gently into the packaging in the desired manner, whether the product is poured freely into the packaging or neatly stacked. In the chips industry, it is very important to avoid breakage. After all, breakage means additional packaging weight and dampens the enjoyment of the snack due to its unsightly appearance," Roland Eis, Department Head Project Planning, FHW Franz Haas Waffelmaschinen GmbH pointed out.
Baking
The most important thing for a crispy snack is the baking. Haas has more than 110 years of experience in manufacturing industrial baking equipment. "We use tried-and-tested techniques from our wafer production experience to be able to produce these new chip products. With a new and optimised baking plate, there are almost no limits to how we can shape the product. The baking process requires very little fat and truly makes the snacks number one for conscientious consumers without having to compromise on enjoyment. Together with the recipes our technologists developed, our baking equipment serves as a perfect basis for implementing new product trends," said Peter Keller, Managing Director, FHW Franz Haas Waffelmaschinen GmbH.
Flavouring
A variety of flavours and individualised taste options form the basis of a global snack trend. "Whether local taste options or seasonal variations, at Haas we can adapt flexibly to all trends. Various treatment processes make it possible to give the products all kinds of flavours. Whether powder, such as cheese and spice blends, or grains, such as Nori seaweed, sesame or poppyseed, the possibilities are practically unlimited. When it comes to toppings in particular, we of course rely on the expertise of the entire Haas Group. Haas-Meincke has been coming up with tried-and-tested techniques in the area of biscuit production for decades," Peter Buczolits, Head of Engineering and Design, FHW Franz Haas Waffelmaschinen GmbH added.
Markets
The new concepts have been developed for markets around the globe, particularly the United States, but also with positive response expected in Asia and Europe. Generally speaking, any market with consumer demand for healthy snacks would be a target area. Haas sees a strong trend towards gluten-free snacks and products rich in proteins. After Greek yoghurts were introduced in the U.S. for example, consumers and tests found that foods with a high protein content provided more satisfactory satiation.
Year of the Pulse
The United Nations has proclaimed 2016 the 'International Year of Pulses'. The awareness campaign influenced Haas product development and their snack concepts are based on pulses such as chickpea and fava bean. Thanks to their high protein content and high yield, pulses are a staple for humans around the world. The new concepts developed by Haas offer the perfect implementation.
Click The Snack Big Bang online.