Stoats secures new listings for its Porridge Oat Bar multipacks
Stoats has secured a new listing with Booths and additional listings with one of the UK's largest retailers, Tesco for its Porridge Oat Bar Multipacks…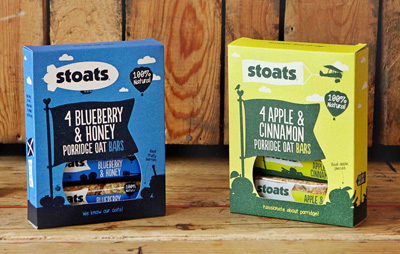 Stoats has secured a listing with supermarket chain, Booths and additional listings with one of the UK's largest retailers, Tesco for its Porridge Oat Bar Multipacks.

The new listing at Booths has seen the Raspberry and Honey, Orange and Dark Chocolate and Apple and Cinnamon Porridge Oat Bar Multipacks being rolled out across 31 Booths stores. Booths is the first major retailer to list the brand's new Orange & Dark Chocolate Bars, which launched earlier this year. 
The new Booths listing comes after existing stockist, Tesco increased their distribution of the Raspberry and Honey, Blueberry and Honey, and Apple and Cinnamon Porridge Oat Bar Multipacks from 404 of its stores to over 850 stores UK wide.
Commenting on the decision to increase their distribution of Stoats bars, Buying Manager at Tesco, Gwilym Jones said: "The Stoats Multipack range was originally bought by our Local Buying team for our Scottish customers, but we have now increased distribution across the rest of the UK on the back of a strong performance. 
"During a deep dive into our ranges in 2015, the insight showed that our customers love the natural ingredients and great taste of Stoats' products, and there is a high repeat purchase due to the quality of their products.  We have therefore increased the listings of the Stoats Porridge Oat Bar Multipacks in the UK to all of our biggest stores."
A 'great milestone'
Managing Director at Stoats, Tony Stone said: "We're extremely excited about the new listings at both Booths and Tesco. Booths is very selective about choosing the best products for their stores so we feel this listing really affirms our products quality and taste. The listing at Booths also gives our product great exposure in the North West of England and we'll be supporting the launch of the multipacks within Booths stores throughout March with sampling activity.
"The increased distribution across Tesco stores is another great milestone for us and we're very proud to see our best selling products, which have a year on year value increase of 57%*, widely available across the UK. Our products continue to perform well within Tesco and 2015 was a great year for us. With the rising snackification trend that we're seeing emerge with consumers, we only hope to see the growth continue and people's appetite for our natural, quality products increase."
Stoats is a Scottish company that specialises in porridge products. Established in 2005 by Tony Stone and Bob Arnott, Stoats was born from a simple idea – to take "porridge to the people!"