UK exports of branded food and non-alcoholic drinks grew by 0.9% in 2015
Exports of branded food and non-alcoholic drinks grew by 0.9% to £4.63bn in 2015, representing the 15th year of consecutive growth…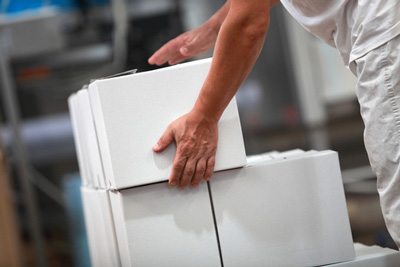 Exports of branded food and non-alcoholic drinks grew by 0.9% to £4.63bn in 2015, representing the 15th year of consecutive growth, the Food and Drink Federation (FDF) said today.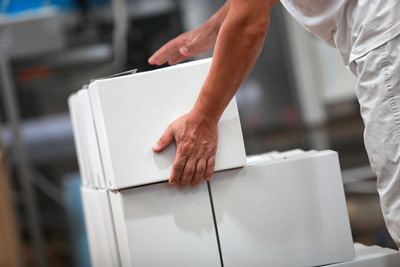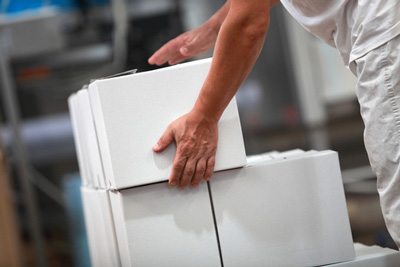 FDF said that overall exports fell by £0.6bn to £12.3bn in 2015 as a result of a drop in oil prices and the strength of the pound against the depreciated Euro, which has made UK exports less competitive in key Eurozone markets.
Chocolate, salmon and cheese remain the top three export product categories, while exports of vegetables, both prepared and fresh, experienced the largest increase in overall growth, up £18m in 2015 to £336.3m.
Non-EU markets now buy 30.8% of the UK's total branded food and non-alcoholic drink exports. The value of exports to non-EU markets was up 6.4% on 2014 figures, with double-digit growth seen in Saudi Arabia, Japan and Australia. Exports of branded food and non-alcoholic drinks to the EU fell by 1.3% in 2015.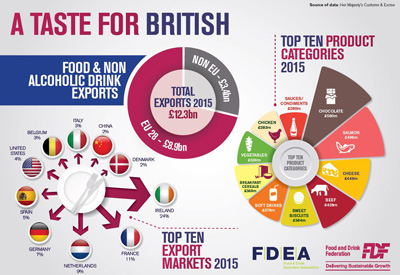 Exports to China grew by 9%. This is the first time that the world's most populated nation entered the UK's list of top 10 overseas trade partners. In 2014, the UK was the EU's number one exporter of tea to China, while exports of processed milk to China rose by £19.3m (+202%) in 2015.
Elsewhere, UK breakfast cereal exports to UAE grew by £8.9m (+45%) in 2015 and exports of crisps to France rose by £1.2m (+23%).
Exports to Thailand saw the biggest market growth
In terms of the biggest market growth, the UK saw exports to Thailand increase by £59.3m (+122%), with cereals making up £21.5m of that growth. Exports to Spain grew by £46m (+9%), with high temperatures and a lack of rain in 2015 resulting in Spain becoming more reliant on imports of UK wheat and barley.
Commenting on the news, Angela Coleshill, Director of Competitiveness at FDF, said: "Growing exports is a top priority for Britain's makers, bakers and bottlers, who have set an ambition to increase branded exports by a third by 2020. For our industry to meet this stretching target, we need to make sure small and medium-sized food companies in particular are helped to compete in the fiercely competitive global marketplace."  
Ben Clarke, Burton's Biscuits & Co-Chair of UK Food & Drink Export Forum, added: "It is testament to Britain's 400,000 strong food and drink manufacturing workforce and the strength of Britain's reputation abroad, that branded food and drink exports continue to grow year-on-year. As these figures show, the global appetite for our produce, which enjoys an enviable reputation for quality, safety and innovation, remain high."