Hughes Mushrooms' FilledFullOf range scoops Tesco listing
Developed by the leading Northern Irish-based mushroom producer, the new ready-prepared selection is being rolled into 15 Tesco stores across Northern Ireland…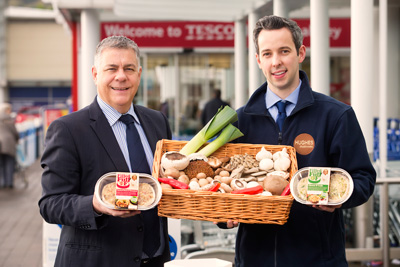 Hughes Mushrooms has secured its first listing with Tesco for its own brand 'FilledFullOf' range in Northern Ireland.
The range is being rolled into 15 Tesco stores across Northern Ireland in four varieties Garlic Cream Cheese, Leek & Wensleydale, Bacon & Rosemary and Tomato, Chilli & Feta.
Developed by the leading Northern Irish-based mushroom producer, the new ready-prepared selection is aimed at busy customers who want high quality, flavoursome, nutritional, fresh meal ideas that look and taste like they have been prepared at home.
Mushrooms are filled with nutrients, including vitamin B and minerals such as selenium, copper and potassium, making them a nutritious addition to the daily diet.
Hughes has 'big plans' for the FilledFullOf range
Emmet Hughes, Director, Hughes Mushrooms commented: "As one of the UK's largest mushroom producers, we are delighted to share the news that our own brand FilledFullOf range has made it into Tesco. We have big plans for the range and it is a great start to secure a prestigious contract; allowing us to really showcase the quality and unique flavours of the locally-grown range with customers across Northern Ireland."
Caoimhe Mannion, Tesco Northern Ireland's Marketing Manager, said: "The FilledFullOf products are part of an award-winning range; further enhancing the quality of the local products we offer in store. We pride ourselves on the support we show local producers and the Hughes' contract will benefit more than 25 growers in Northern Ireland."
In double celebrations, the company also announced that its FilledFullOf Leek & Wensleydale variety received a highly commended award in this year's prestigious UK Quality Food Awards 2015. The FilledFullOf Leek & Wensleydale Flat Mushrooms entry was the only vegetable product to be shortlisted in Quality Food Awards' highly competitive 'Ready to Cook' category alongside with beef, chicken and pork meat lines.