Pretzels, snacks, sweets and bread! Haas at IBA 2015
Haas brought all four of its companies to IBA 2015 to show attendees how the Haas Group covers many aspects of confectionery production. Here they provide a review of the show…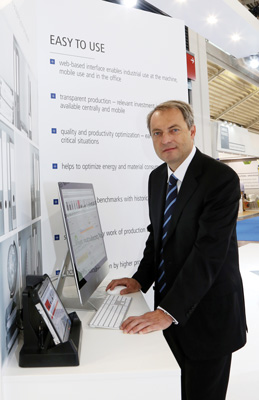 Walking through all 12 halls at the exhibition venue in Munich can cause blisters and leg pain – however it was worth it – the smell of freshly baked sweets, salty treats, smiling faces and few traditional "Lederhosen" were more than enough to help you see what is new in the industry. In case you haven´t been there, let us tell you how it went.
1,300 exhibitors had the opportunity to welcome more than 76,000 visitors from all over the world – a definitive increase in the number of visitors compared to 2012. The exhibition, which lasted 6 days (September 12 – 17), was pretty busy and we have also noticed it at our 440m2 booth.
But it is not only visitors who were at our booth – we have to admit that the large number of machines presented were a significant part of the area. We brought all four of our companies together to show you how the Haas Group covers many aspects of confectionery production.
Haas' SPIDER produces results that are live and easy to understand
All new ordered Haas line systems are automatically equipped with the EQUIPMENT MONITORING SYSTEM SPIDER. The monitoring system can be used simply and quickly from day one of the line. The user interface shows all values via desktop station, mobile device or directly on the line via industrial PC. All SPIDER results are live and easy to understand. It shows where the customer can gain money and resources because of optimising processes.
Want to produce cones or center-filled cakes? Our Franz Haas Convenience Food MTA-V (for cone production) and CFC (for center-filled cakes) baking plates depict the baking process. Need some wire-cut biscuits? Ask our colleagues at Haas-Meincke and they will tell you what the WIRE-CUTTER 6100 can do to help you out.
Haas-Mondomix has shown 2 machines: the already known BMS (batter mixing system that includes buffer tanks and various expansion options that will facilitate your mixing process) and the CRANE. CRANE is more than just a mixer – it helps to produce a continuously baking mixture without any lumps!
Looking at stainless steel only can be interesting but it is even more interesting to watch the machines in action! If you are interested in different wafer stick products, then seeing our EWB-R wafer stick baking oven and pillow stick crimper would have been perfect for you, in 3 options – plain, with color and filled with chocolate cream.
Haas' TURTLE machines baked all sorts of products at IBA 2015
However, the EWB-R was not the only machine baking – our 2 TURTLE machines, operated by our skillful technologists, baked all sorts of products. However, this time the focus was on local ingredients that can be incorporated into a wafer. Instead of eating a regular wafer, why not try one made from Millet – an ingredient cultivated in China and Korea? Or even try the crunchy chickpea and for a brief second travel all the way to Middle East and Turkey? These and many more have been freshly baked – you could have smelled it all the way to the main entrance…
And what would be a Haas booth without worldwide products presented in our Ideation Tunnel? Brazil, Germany, Egypt, Japan, India, Russia – every continent was there with the purpose of giving you new ideas and inspiration. Who knows, maybe your new product will be inspired by a country with a completely different culture and taste?
We have to admit that the exhibition exceeded our initial expectations and we are very pleased! We would also like to thank you all for coming, visiting and most importantly – devoting your time to us.