Whitworths redesigns it snacking and baking product brands
Due on shelves from October 2015, the redesign provides an injection of excitement into the category as the range returns to shelves with brighter, more vibrant and innovative packaging…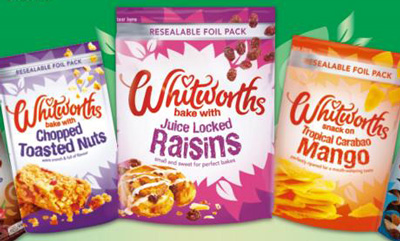 Whitworths has announced a redesign of its snacking and baking product ranges.

Due on shelves from October 2015, the redesign provides an injection of excitement into the category as the range returns to shelves with brighter, more vibrant and innovative packaging.
With the adult snacking market showing growth of 6.9+% and the vast growth of the baking industry now valued in excess of £3.4billion, Whitworths has generated a significant investment of £1 million to support the re-launch. The Company says the redesign forms an integral part of the brand's growth strategy, focused on inspiring consumers to bake, ensuring on-shelf standout to make the product easy to find, communicating product quality to consumers and offering nutritious alternatives for snacking and baking.
Recipes have been added to packs to provide inspiration to consumers looking to make an impact in the kitchen. New on-pack descriptions bring to life the story behind the products, with information on provenance and detail behind each unique mix. Functionality has also been improved, with new best in class foil freshness packaging to ensure the highest product quality and a click-close to reseal for convenience and ease of use.
To date, the new packaging has demonstrated in consumers: a 15% improvement in quality and taste perceptions; a 76% increase in brand recognition and trust; and a 20% increase of intent to purchase. Consumers also found the new packaging on shelves twice as fast.
Whitworths Fusions is the first range to feature the new packaging
The first range to feature the new packaging was the recently launched Fusions range, part of the brands snacking line. Aimed at bridging the gap between great tasting and healthy snacks, Whitworths Fusions takes the tastiest ingredients nature has to offer, expertly sourced and blends them together in creative new ways – ranging from sweet and zesty, to crisp and juicy, or mellow and spicy.
The new packaging has been supported by an integrated digital, PR, social and in-store communications campaign that has looked to further drive inspiration and excitement amongst consumers.
Phil Gowland, Head of Marketing at Whitworths, commented, "Our new packaging highlights a more vibrant, exciting and enticing Whitworths as we look to inspire our customers in the kitchen. We believe that our redesign will help fulfil our objective of driving growth by increasing stand out on shelf and converting first timers into loyal advocates through our best-in-class freshness packaging and brilliant taste. With the continued surge of interest in home baking and the increasing trend for healthy snacking, there's never been a more exciting time for our category."