Young's Chief Executive outlines strategic vision for the company
Young's Seafood's Chief Executive gave an update on the UK market and outlined the strategic vision for the company at the Groundfish Forum conference…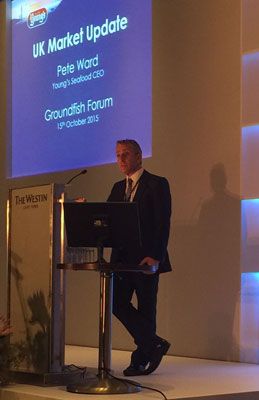 Young's Seafood Limited's Chief Executive, Pete Ward, gave an update on the UK market and outlined the strategic vision for the company at the Groundfish Forum conference.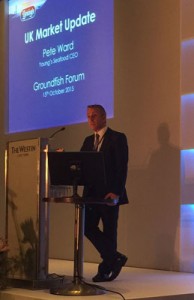 During his speech, Pete Ward highlighted changes in the UK economy and the grocery market and gave an update on protein consumption trends and UK seafood. He detailed the new retailer, channel and consumer dynamics, highlighting the growth of the discounters, convenience, high street stores, on-line and click-and-collect. While population forecasts predict growth, Ward argued that consumers are ever more conscious of their health and portion sizes and are careful to limit food waste. He also touched on the trend for consumers to shop in both premium stores and at the discounters, in their search for the value, quality and selection. This, Ward set out, along with over-capacity in retail and manufacturing, will result in an "industry reset" throughout the entire supply chain.
Young's is performing ahead of the market in frozen seafood
Outlining how Young's Seafood Limited is responding to these dynamics, Pete Ward, Chief Executive of Young's Seafood Limited, said: "Innovation, inspiration, health and convenience are all elements of the product proposition that can increase value in the eyes of the consumer […] At Young's we are embarking on a journey of Virtual Integration with our best suppliers, working as partners, driving improvements for mutual and sustainable benefits. These benefits can then be invested in our customer and consumer propositions to ensure we are competitively priced as well as offering great value. For this to work successfully we have to have alignment, trust and shared principles. Young's can be the route to market for suppliers."
To support this mission the Young's brand, which is performing ahead of the market in frozen, has launched a wide range of fish dishes this Autumn. Each dish has been specially created by Young's Seafood's chef, who studied the latest food trends from all over the world.. Young's has also expanded its Funky Fish Kitchen range into frozen for the first time.
Young's re-launched its brand this year across chilled and frozen, with the new master brand rolling out on pack and a new TV and multi-channel advertising campaign. Young's Seafood has also said it has exciting brand innovation and marketing plans for the coming year with more TV and multichannel advertising campaigns, digital outreach and in store promotions.