GEA's new infant formula plant for Yashili starts production
With a production capacity of 50,000 tons a year, this plant is one of the largest infant formula plants in the world…
GEA has built a complete processing plant for infant formula production for Yashili, one of the Big Three producers for the Chinese market.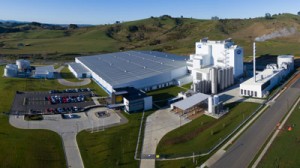 The new plant in Pokeno, 50 km south of Auckland, has already started production.
With a production capacity of 50,000 tons a year, this plant is one of the largest infant formula plants in the world. It places special focus on innovation and on the hygienic design of the process plant and buildings.
Yashili started construction on the new plant in September of 2013. GEA was chosen as the main process contractor because of its reputation in New Zealand for building dairy processing plants to the highest international standards.
The scope supplied from GEA includes all the key elements: from milk and ingredients reception, to powder production, and to final packing. All of the main processing technology from GEA assures absolute compatibility and design optimisation.
The process at the new facility starts when milk is received and pre-treated. Ingredients are then accurately added using high shear mixing under vacuum. The resulting formulations are cooled in batches. The batches are then further concentrated by gentle removal of water under vacuum, using GEA tubular falling film evaporators. The milk concentrate from the evaporators is spray-dried in a GEA MSD dryer to produce a dry powder with high functionality. The powder is then packed into 25 kg bags using GEA Avapac technology.
New Yashili plant includes highly innovative technologies
The plant includes a number of highly innovative technologies designed to enhance product quality and consistency, reduce noise pollution, and minimise the use of water and energy. For example, GEA has designed the plant with multiple feed lines and duplicate up-stream systems (such as for evaporation) to allow continuous, 24-hour operations of the dryer. This facility increases output, helps ensure product consistency, and avoids product quality problems associated with start-up and shut-down procedures. Also, the GEA dryer uses dehumidified air and is one of the first spray dryers in New Zealand to benefit from this feature. By dehumidifying the inlet air it is possible to compensate for changes in humidity throughout the day or year, thereby optimizing dryer efficiency and avoiding upsets in the drying process. It also ensures a greater consistency in the properties of the final powder.
Chris Burt is the engineering manager for GEA in New Zealand. He reported that the Pokeno plant had been a challenging project, but that the company had been able to draw on its long experience of building similar facilities elsewhere in the country and around the world. "We have succeeded in including interesting innovations for Yashili," he explained. "These have combined to optimise the plant in terms of its productivity, flexibility, and sustainability. It is really a world class facility."
Terry Norwood is the Operations Manager for Yashili New Zealand operations and has seen the project through from conception until the present. "We have a plant here that represents the best in class in many aspects and that produces an excellent product," he said. "GEA has been a great partner in this project."