Nim's Fruit Crisps opens new factory in the UK
The new Nim's Fruit Crisps factory is the only British facility with the ability to air-dry fruit and vegetables on a large scale…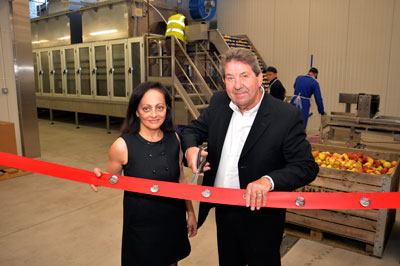 Innovative fruit snack company Nim's Fruit Crisps has opened its new Kent-based factory, having secured an investment of over £350,000.
With exclusive machinery making the Kent factory the only British facility with the ability to air-dry fruit and vegetables on a large scale, the new site sets the company apart from competitor fruit crisps brands on the market which tend to freeze-dry or vacuum-fry.
The new site means the brand can ensure an exceptional level of quality and consistency of product, as well as being able to respond to customer demands and bespoke orders swiftly and to exacting specifications.
The unique state-of-the-art machinery used to produce the new range of Nim's Fruit Crisps, not only gives the company complete control of the manufacturing and packing process but also provides a product with a higher nutritional content, crisper texture, sweeter taste, brighter colour and amazingly intense natural flavour. The manufacturing process also means the skin, core and pips in each fruit are left intact.
Nim's Fruit Crisps founder, Nimisha Raja said, "I'm proud to have been able to bring production back to the UK and be part of the drive to increase British manufacturing. Having been the very first fruit crisp on the market back in 2011, we're continuing to innovate and strive to create the best product possible. We wanted to make a crisp which was 100% fruit, tasted great and had a crisp texture that lasted once bagged. The bespoke machinery we air-dry with produces just that, giving us a very strong point of difference in the market."
Nim's Fruit Crisps looking to work with other UK food producers
Nimisha continued, "We are also looking to work with other UK food producers to provide air-dried fruit and vegetables to the ingredients market, to be used in items from fruity cereals to vegetable mixes."
During the process of developing the facility, Nim's Fruit Crisps secured £3,000 of funding from the Business Growth Service towards accessing specialist consultancy on the initial layout of the factory, fine tuning workflow and identifying the right equipment, as well as assistance on meeting BRC and selected retailer requirements.
Business Growth Manager Ian Pateman commented, "Nimisha has created a truly state-of-the-art fruit drying factory, right here in the 'Garden of England'. She now controls the full production of Nim's fruit crisps and has the platform to increase volumes when required and innovate the range to introduce new flavours. There is definitely a market for her healthy snacks and interest is already emerging from international distributors in America, China and Europe."