GLORIOUS! Foods adds new flavours to its soup range
GLORIOUS! Foods has strengthened its range of fresh soup pots with the launch of three new limited edition global flavours…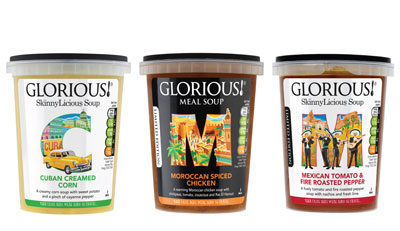 GLORIOUS! Foods has strengthened its range of fresh soup pots with the launch of three new limited edition global flavours.
Two of the new flavours, "Mexican Tomato & Fire Roasted Pepper" and "Cuban Creamed Corn," also sit within the brand's popular SkinnyLicious healthy range, each containing 150 calories per portion or less and under 2% fat. GLORIOUS! Foods aim to reinvigorate the fresh soup market with bold and exciting flavours inspired by authentic ingredients and flavours from around the world.
Katie Herron, Brand Manager at GLORIOUS! Foods, said, "We're delighted to introduce these brand new flavours into the fresh soup market. Lunchtime options can become lacklustre and boring, but with GLORIOUS! Foods we aim to create an adventurous food experience by transporting the consumer to the beautiful and exciting places the flavours originate from.
"People travel to the edges of the world to try authentic local delicacies and traditional cuisines and our new Mexican, Cuban and Moroccan flavours truly bring this taste home within a delicious soup."
Furthermore, based on unprecedented consumer demand, the current limited edition "Mumbai Chickpea and Lentil" soup will join the GLORIOUS! core range, available year-round following its huge popularity.
GLORIOUS! Foods experiencing an exciting growth period
Since launching in 2008, GLORIOUS! Foods has won a number of prestigious industry awards including the Quality Food Awards.
Katie Herron, added, "GLORIOUS! is currently experiencing an exciting growth period through expanding our product offering for consumers and developing our brand and presence in key retailers. Our growth in the market allows us to present consumers with unique flavours inspired by countries including Italy, Thailand, India, USA, Singapore and West Africa."