Arduenna to showcase Transylvanian Cuisine at Speciality and Fine Food Fair
Real bear Salami is one of the offerings from Arduenna, a new range of Transylvanian cuisines, launching at Speciality and Fine Food Fair 2015…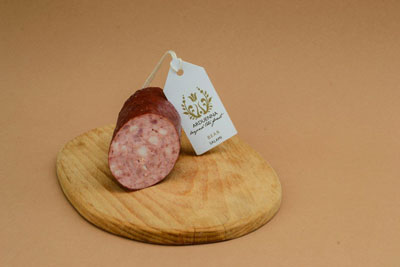 Real bear Salami is one of the offerings from Arduenna, a new range of artisan jams, marmalades, cheeses, chutneys, pickles, cordials and charcuterie from the heart of Transylvania, launching at Speciality and Fine Food Fair 2015.
Arduenna is a range of high quality artisan food products showcasing Transylvanian cuisine. The brand was recently named a BBC Good Food Champion and won four awards at The World's Original Marmalade Awards at Dalemain for their marmalade. Their artisan cheeses have been entered in this year's International Cheese Awards.
As well as their iconic Bear Salami, the Arduenna launch range includes five flavours of Onion Marmalade, a wide selection of cheeses including Truffle cheese and Burduf cheese, charcuterie including Beef Salami, Venison Salami, Transylvanian Pepper Sausage, Arduenna Air-dried Ham and Wild Boar Ham.
There will also be Arduenna cordials in flavours including Aronia Berries and Wild Blueberry Lemon; preserves with favours ranging from the traditional to Sweet Curry Onion Jam, and the exotic Clementine, Orange, Cardamon & Chilli Flakes Marmalade and Chibed Peach Compote.
Arduenna sources all products from artisans and family businesses
Dr Villo Lelkes, who formally worked as a policy officer in Brussels for the European Commission, said, "Our food is natural, often low in sugar, tasty and with a well-explained provenance. We source all our products from artisans and small family businesses. Fruits and vegetables come from local producers while our blueberries and elderflowers are foraged from the mountains. We are helping to keep alive traditional recipes many of which are hundreds of years old."
The brand is targeting speciality retailers, delis, farm shops and restaurants as well as online customers.
The name of the brand, Arduenna, is the Celtic name for Transylvania meaning high, forested mountains. The company operates its production as a social enterprise, is committed to paying a living wage to locals and works with women. The social enterprise makes the artisan preserves, chutneys and cordials.