Brabender to present its Allround Solutions at IBA
Under the motto Allround Solutions, Brabender will present its solutions for the quality control of flour, dough, starch and other materials at IBA 2015…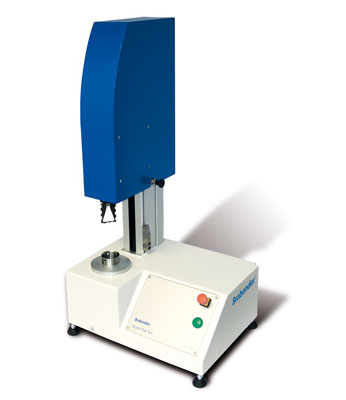 Brabender's GlutoPeak
Under the motto Allround Solutions, Brabender® will present its all-round solutions for the quality control of flour, dough, starch and other materials at IBA 2015 (Munich,12 – 17 September 2015).

How much water can a flour absorb so that the dough has optimum mixing characteristics? How elastic is the dough that I produce from the flour? How can I predict the baking behavior? How can I prove whether the flour received from the supplier complies with my specifications?
The Brabender staff will give answers to these questions and more at the four stations of their demonstration laboratory at booth no. B5.154. Different kinds of sample material will be analysed with the Brabender 3-Phase-System which consists of Farinograph®, Extensograph® and Amylograph®. These instruments are applied as a standard in the worldwide milling and baking industries and provide comprehensive information about flour quality, especially in combination with each other.
The Brabender GlutoPeak® represents the fourth station of the demonstration laboratory. Within seconds, this instrument provides a rheological fingerprint of the analysed flour. Hence, it gives quick but also reliable information about the gluten quality and consequently about the baking characteristics of a flour.
How can I best adapt the processing characteristics of my raw material to the different products and processing tasks? Booth visitors will get an answer to this question during a live demonstration with the single-screw extruder KE 19/25. This compact laboratory extruder and the Lab-Compounder KETSE 20/40 will also be shown on IBA 2015.
Brabender's Allround Solutions motto stands for comprehensive information
Allround Solutions stands for comprehensive information provided by the Brabender instruments and equally for their versatility. Thus, the company also shows the Micro Visco-Amylo-Graph® which measures the gelatinisation properties of flour as well as those of starch and starch containing products
Brabender will also show a number of novel products and concepts at IBA 2015. New versions of the Brabender Moisture Tester MT-C and the laboratory mill Quadrumat Junior will be on display at the booth. Both instruments are representative for the product range in sample preparation and grain reception which completes the company's rheology and extrusion solutions.
Finally, the Brabender Customer Service completes the Allround Solutions with an own area at the booth where the service staff will give information about the broad spectrum of services.