Tyson Foods shares tumble following Q3 results announcement
Shares in Tyson Foods fell sharply following the Company's announcement of lower-than-expected profit and sales results from the third quarter…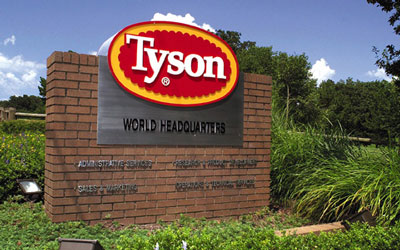 Shares in Tyson Foods fell sharply following the Company's announcement of lower-than-expected profit and sales results from the third quarter.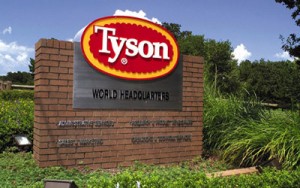 Tyson Foods reported net income for the quarter of $344 million, up from the same period last year when net income was $258 million. The Company also reported record cash flows from operations of $864 million, supported by strong sales in chicken and prepared foods. However, operating income in Tyson Foods' beef segment decreased due to unfavourable market conditions and sales volume decreased in the pork segment due to the divestiture of Heinold Hog Markets. As a result, the Company lowered its financial outlook for the full year.
Commenting on the strength of the chicken and prepared foods segment, Donnie Smith, president and chief executive officer of Tyson Foods, said, "The Prepared Foods and Chicken segments performed very well in the fiscal third quarter while managing numerous challenges. The strong results in these two segments demonstrate the benefits of our branded, value-added product portfolio and multi-channel, multi-protein business model by partially offsetting soft results in the Beef and Pork segments"
Donnie Smith continued, "Our beef business suffered from export market disruptions that had an $84 million impact on third quarter results, and we continue to see very high cattle costs at a time when product values and export issues are making it difficult to realize expected revenue levels in this spread business.
"While we are pleased with the performance of our business overall, unless beef market conditions improve rapidly, we will not achieve our previous guidance of $3.30-$3.40 adjusted earnings per share. As a result, we are modifying fiscal 2015 guidance to $3.10-$3.20 adjusted EPS."
Tyson Foods significantly cut prices to reduce inventory which hit Q3 margins
Commenting on Tyson Foods' Q3 results and the fall in share price, Fiona Cincotta, a senior market analyst at www.finspreads.com, said, "It was probable that the market was aware that Tyson Foods was not going to live up to third quarter forecasts, however there is nothing like actually seeing the figures come in short to make the stock plunge; that is exactly what happened here.
"Tyson Foods posted earnings per share of 83 cents on revenue of $10.1 billion, its slowest sales growth in nine quarters, whereas analysts had forecast 93 cents on $10.3 billion. To add insult to injury the food giant also lowered its financial outlook for the full year.
"West Coast port disruptions leading to shipment delays have been the root cause of the disappointing results, as customers have acted with their feet and looked to import from other countries. Although the port issues ended back in February Tyson Foods significantly cut prices to reduce inventory which in turn has hit its third quarter margins.
"However with the weak outlook set to continue through 2016 it comes as no surprise that the share price, which had been trading near record highs, fell 10%."