Audit compliance inside and out
High performance NSF registered food grade lubricants in the FOODLUBE® range from ROCOL® add an invaluable safety dimension to food processing…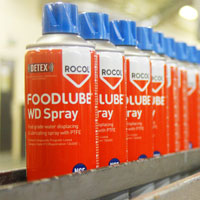 High performance NSF registered food grade lubricants in the FOODLUBE® range from ROCOL® add an invaluable safety dimension to food processing, protecting consumers and brands and optimising the lifespan of production plants. Increasingly though, manufacturers are realising the benefits of the innovation that goes into what's on the outside of FOODLUBE products – the packaging.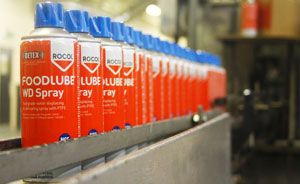 With today's safety audits evaluating every aspect of the production process, it is no longer enough to simply specify food grade lubricants. ROCOL is supporting clients to structure their maintenance regime in a way that minimises lubricant misuse, reduces the risk of product contamination and makes lubricant identification and evaluation by inspectors easy.
That's why ROCOL has looked at every aspect of its packaging to design-out risk.  Today, every FOODLUBE aerosol can and cartridge now feature DETEX® metal and x-ray detectable caps and actuators as well as a 360º minijet directional spray valve. Crucial safety information is also clearly visible on the aerosol can, including the date of manufacture, the NSF category and registration number plus obvious identification of ROCOL's ISO21469 certification and a unique lubrication management reference number. Finally, a distinct application icon and description ensures a product's suitability for a process can be established at a glance.
Find out more at www.rocol.com/foodlube