Building a global solution for aquaculture through partnership and collaboration
GLOBALG.A.P. presents update of new Version 5 and progress on partnerships in pushing to counteract ever growing number of duplicative audits…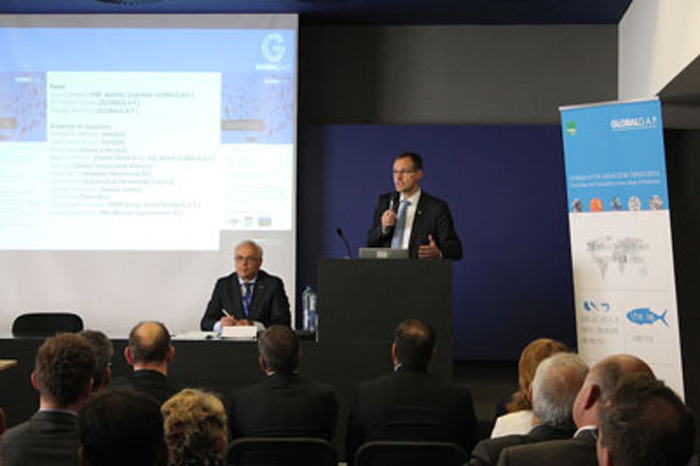 GLOBALG.A.P. has announced that it will expand its 2015 push for international collaboration to include aquaculture. The initiative will reduce the cost of certification by enabling combined audits. Within the framework of the MoU with the two other leading aquaculture certification programs ASC and BAP, GLOBALG.A.P. has supported the collaboration on drafting and agreeing combined checklists for farms that seek more than one certificate. See separate news here.
"With more than 150,000 agricultural farms in 120 countries under certification, we are one of the world`s leading farm assurance systems and benchmarking organizations," explained Guy Callebaut, Vice-Chairman of the Board VBT/BelOrta, fruit grower, and GLOBALG.A.P. Chairman of the Board, at the annual Seafood Expo  news conference in Brussels. "We are happy to also offer this experience to the aquaculture sector in an effort to promote and assure more sustainable and responsible practices for the benefit of all stakeholders and society at large. We have to collaborate with organizations with whom we are able to create sustainable, mutually advantageous partnerships that also benefit farmers."
GLOBALG.A.P. has already fully implemented the partnership with FOS (Friend of the Sea) to offer an add-on module for aquaculture and thus add a consumer label to seafood products from GLOBALG.A.P. certified farms.
REVISION VERSION 5
"The second round of public consultations for the GLOBALG.A.P. Version 5 aquaculture standard has been completed," said Valeska Weymann, Senior Expert and GLOBALG.A.P.`s Technical Key Account Manager for Aquaculture. "The new version promises enhanced animal welfare and social responsibility aspects. We also included a voluntary add-on for compound feed manufacturers for responsible operations, which defines criteria for the identification and action to be taken on key sustainability risks including labor, environment and sourcing of raw materials. We are happy to provide this input to the feed dialogue of the other standards. The new rules will be published in June."
NAQUA
GLOBALG.A.P. also presented the Saudi Arabia National Aquaculture Group (NAQUA) to be the first company in the country to achieve GLOBALG.A.P. Aquaculture (shrimp & fish) and Compound Feed Manufacturing certification. See more here.
On 18 August 2015, GLOBALG.A.P. Aquaculture certified producers will share their experiences of the certification process and how GLOBALG.A.P. Aquaculture Certification has benefited their production processes and their overall businesses at the TOUR 2015 in Puerto Varas, Chile, organised by DNV GL and focusing on aquaculture.
ABOUT GLOBALG.A.P.:
GLOBALG.A.P. is one of the world`s leading farm assurance systems that offers a clear focus on food safety paired with other significant elements of Good Agricultural Practices, a transparent and robust integrity system equipped with an increasing flexibility to respond to market requirements, and modular and customized solutions for certification, farm assessments, and capacity building. Today, more than 150,000 primary producers are under GLOBALG.A.P. certification in 118 countries. GLOBALG.A.P. schemes primarily focus on product safety, environmental impact and the health, safety and welfare of workers and animals.