More productivity and reliability in microbiological food testing
The Serial Dilution System of Inlabtec AG, Switzerland, simplifies the traditionally labour-intensive process of serial dilution for viable cell counts and replaces glass tubes with single-use sterile bags…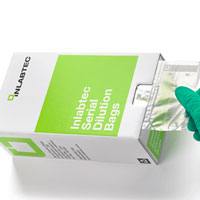 The Serial Dilution System of Inlabtec AG, Switzerland, simplifies the traditionally labour-intensive process of serial dilution for viable cell counts and replaces glass tubes with single-use sterile bags. As well as eliminating the labour intensive task of preparing test tubes required by the old method, the ISO compliant method of conducting dilutions in Serial Dilution Bags avoids operator errors and increases reliability of the food testing results.
A new report demonstrates that using an Inlabtec Serial Diluter, perfect serial dilutions can be achieved in less than 4 seconds whereas with the test tube method mixing times of less than 6 seconds can lead to a systematic underestimation of the number of viable cell counts on the same sample model. These errors can give rise to false qualification of food tested and thus represents a major risk to consumers.
Please visit www.inlabtec.com for more information or contact an application specialist at [email protected].